Body After Baby: Kourtney Kardashian Shows Sister Kim How It's Done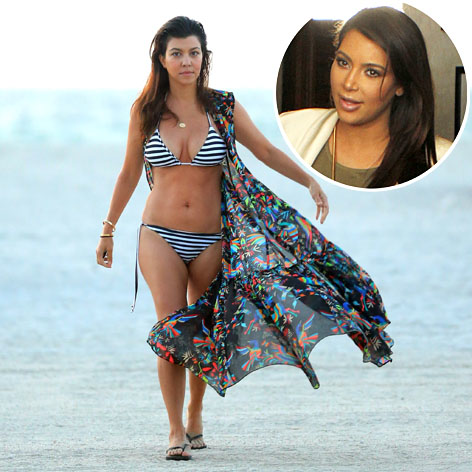 Kourtney Kardashian flaunted her bikini body on a beach in Miami this week, giving her sister Kim something to shoot for as she struggles to get back into shape.
Kourtney became a mom for the second time a year ago and her curvy figure is better than ever. She was only too happy to show it off in an itsy bitsy string bikini in front of the Sentai Hotel.
Sister Kim, who became a mom last month, thanks to boyfriend Kanye West, gained at least 50 pounds during her pregnancy, and possibly much more.
Article continues below advertisement
She's reportedly already lost 20 of those pounds and now, five weeks after the birth, has the go ahead to start exercising.
It's believed she plans to unveil her own body after baby on her mom Kris Jenner's struggling talk show, Kris.