Desperate Khloe Kardashian Trying To Save Marriage As Lamar's Cheating Scandal Grows & Mistress Reveals More Details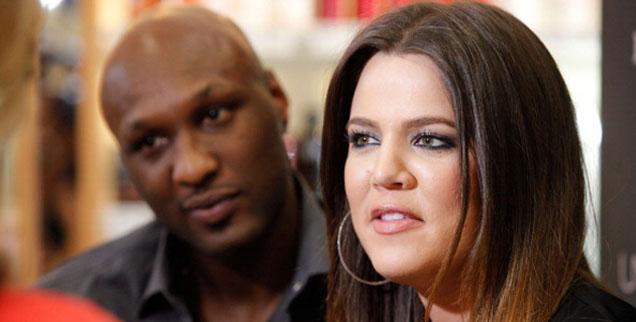 Khloe Kardashian is desperately trying to save her marriage to Lamar Odom, even as his cheating scandal not only refuses to fade, but is growing larger, RadarOnline is reporting.
Jennifer Richardson recently came forward and said she had an affair with the NBA player that stretched out for more than a year – and even included a threesome.
Khloe posted a photograph of herself with Lamar to Instagram around midnight Monday, but it is not clear if the pic is new.
Article continues below advertisement
Khloe and Lamar have not been photographed together for 50 days! The last time they were seen was June 2, at Kim Kardashian's baby shower.
And the days leading up to that were filled with trouble for Khloe and Lamar, as she first kicked him into a separate bedroom and then out of the house.
Now, he's allowed back in the house and Khloe desperately is trying to hide her marital trouble from the world. But she's facing one big problem: Richardson is speaking out, telling more and more about her affair with Lamar.
In her interview with Star magazine, Jennifer revealed that she met Lamar in several cities and had an ongoing sexual relationship with him. Khloe eventually kicked Lamar out of the house, as RadarOnline.com confirmed, but has let him back in, although they often sleep in separate bedrooms.
Desperate for a baby, Khloe, 29, doesn't want her marriage to end, even though she doesn't trust Lamar, 33.
But the bad news for Khloe and Lamar is Richardson is not fading away, in fact she's talking more and more about their hookups!
Article continues below advertisement
In video interviews with Star magazine, Richardson is recounting details of her sexual relationship and emotional ties to Odom. She says they told each other they loved each other and even discussed having a baby together!
What's more, she urges Khloe to get a divorce, saying Lamar will continue to cheat.
"This isn't the first time Khloe has heard that Lamar has been cheating," a source said. "But she's torn. She doesn't trust him but she doesn't want to believe he cheats either.
"Still, she tossed him out of the house. And before that she kicked him into a separate bedroom."
Now, around midnight Monday, Khloe posted on Instagram a pic of herself with Lamar, showing him kissing the side of her head.
It's not known if the image is new, and Khloe didn't post a comment with it.
Lamar recently attacked a photographer outside of his home when the pap began asking questions about Richardson.
It looks like he may have to get used to it, with Richardson not shying away from the spotlight while Khloe tries to convince everyone her marriage is fine.
radar_embed service=5min.com src="http://pshared.5min.com/Scripts/PlayerSeed.js?sid=281&width=560&height=345&playList=517865835"