Exclusive
Gretchen Rossi Shares Secrets To Her Sexy Bikini Bod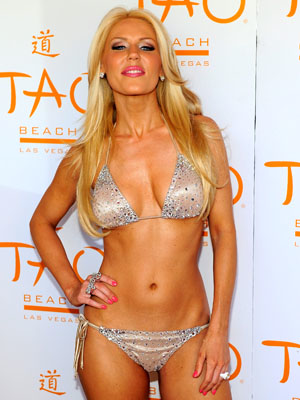 The Real Housewives of Orange County star Gretchen Rossi has recently launched a new bikini line - Gretchen Christine for Luxe by Lisa Vogel - and she also knows how to get the perfect bikini bod to fit in any sort of swimwear.
"It truly is about moderation and for me," Gretchen tells RadarOnline.com exclusively.
Gretchen has tried all the tricks of the trade, but none of them worked.
"I've struggled in the past with having an eating disorder way back in the day in high school and going through yoyo dieting and trying every pill on the market, but none of it worked because I wasn't feeding my body or taking care of myself," she admits.
Article continues below advertisement
But then Gretchen made a change.
"Once I decided to get healthy and let all of that go out the door, it made such a huge difference," she says. "The second that I stopped putting pressure on myself is when I really started to see the weight come off and really started to see my body transform."
So what does Gretchen do?
"My secret is I eat every 2-3 hours," she explains. "Even if I'm not hungry, I eat."
Gretchen does this all day long.
"I eat just little bits of everything and graze all day long," she says. "And what it comes down to is you have to mentally know what it is you're putting into your body."
Moderation is key.
"A perfect example is, if one night I have a gigantic pasta dinner, the next three or four nights, I'll eat a little bit more clean," she shares. "Or if I have a pizza, instead of eating five pieces, I'll have two. "
Article continues below advertisement
Gretchen even keeps snacks with her when she's on the go.
"I love trail mix, cashews, chocolate covered raisons or chocolate covered fruit," she confesses. "But again, it's not having a whole serving of it. It's about having two or three and putting it in your body and your body being fueled."
What might surprise you about Gretchen is that she isn't a typical gym girl.
"I try to stay active doing something like riding my bike, going for a walk, taking the dogs to park," she says. "I have this ongoing joke that when Slade comes down stairs and goes, 'What are you doing?,' I'm in the kitchen making dinner and doing my bicep curls."
Gretchen tries to at least get in 30-45 minutes of exercise per day, but suggests that if you are just starting out, that you can start small.
"Let's start today with 15 sit-ups and 15 pushups and that's it," she says. "And then the next day do something more or add something else to it."
She says, "Take it in baby steps. Just like anything, you're not going to just go climb Mt. Everest. You have to build your endurance and train to be at that level."