Brandi Glanville's Hangover: Defends Herself Against Critics For Getting Wasted, Says 'It's Not Murder'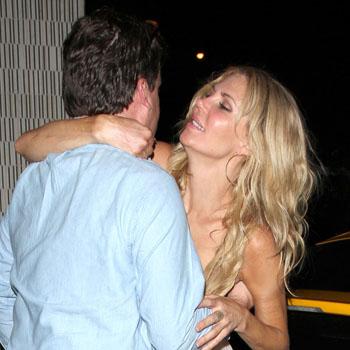 Brandi Glanville is defending her drunken slip-up from Monday night, firing back at critics who slammed her being wasted saying, "It's not murder."
The Real Housewives of Beverly Hills star let it all hang out while partying at the London Hotel in West Hollywood and after photos popped of the single mother with a massive nip-slip and flashes of her booty, haters took to Twitter — and Brandi shot back that she was just "being polite.
Article continues below advertisement
Although Brandi admitted that her public display of wardrobe malfunction may not have been the smartest idea, replying to one follower, "I forgot that my every move is watched, I was letting go with my gays... I f**ked up." Brandi was so inebriated that she actually fell down at one point and was helped up by one of her male companions.
And according to Brandi, she wouldn't have gotten so out of control if her best friend, Jennifer Gimenez, would have been there to look after her.
What do you think — sloppy mess, or just a hard-working mother out for a night of fun? Sound off below…