Exclusive
'Below Deck' Aleks Taldykin & David Bradberry Reveal Drama & Romance In New Bravo Series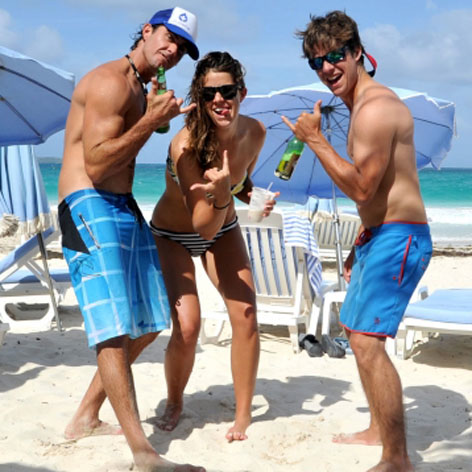 The summer is all about hot and steamy romances, spending time with friends, and, well, maybe having some fun partying.
All of this, and more, is captured in Bravo's new dramatic reality show, Below Deck, a series that follows a group of individuals living and working in tight quarters on a huge, chartered yacht.
Relief Captain and First Officer, Aleks Taldykin, is in charge of the rowdy crew and head of keeping the drama minimal amongst his staff.
Article continues below advertisement
"I have a really hard character because I am very young for the licenses I have and it makes it very difficult with people my age and being technically the boss when we look the same age," Aleks tells RadarOnline.com exclusively.
But Aleks tries his hardest to fill the role.
"You will see I am a straight shooter and then towards the middle, I start to relax and be myself," he shares. "I am a lot of fun when I¹m outside of work, but when I'm at work, I take it very seriously."
He even acts as the person that holds the crew together.
"I would say I was the therapist on the boat because the girls kept coming to me when they couldn't get along with Adrienne Gang, the Chief Stewardess," Aleks says. "The guys got along. It was mostly the girls that just couldn't get along with Adrienne whatsoever and they would come to me and freak out."
At one point while filming, Aleks recalls Samantha Orne asking him for a new job assignment.
Article continues below advertisement
"I remember Sam asking me, 'Can I switch with one of the guys? I can¹t deal with this b*tch anymore'," Aleks says. "I wouldn¹t even call her Adrienne feisty. I would just call her absolutely bat sh*t crazy."
But maybe it was Sam's fault that the two fought.
"There was some feminine animosity there between Sam and Adrienne," deckhand David Bradberry tells RadarOnline.com. "Sam, she tended to push her limits."
The men also had their own drama too.
David didn't always get along with the on-board chef, Ben Robinson, or engineer, C.J. Lebeau.
"I question C.J.'s work ethic once or twice openly," David says. "It just seemed like sometimes when you¹re looking for actual work to be done, it was sometimes difficult to find him."
He continues, "And then there's Ben who openly spoke his mind. Sometimes, I went to bat for some of the other people. I'm the type of guy if you've got something to say, say it to someone¹s face."
Article continues below advertisement
And Aleks didn¹t get along with his boss Captain Lee, "the old fossil guy."
"From the minute we met, he was breathing down my back and I could just tell the way he looked at me, he had no respect for me and never would," Aleks says. "Imagine going to work everyday with someone you just can¹t stand to be around. You just want to jump overboard realistically, but you can't."
But, besides the crew's different personalities, there were a few characters who meshed a little too well and may have developed some romantic sparks.
Keep an eye on "CJ and Sam for sure," Aleks says.
"Sam and C.J. shared a room the entire chartered season and the sexual tension was very high," David agrees. "At one point I had to let them know, 'You guys just need to go and bang and get it over with'."
He adds, "You can look at it two ways where it might be unprofessional to hookup with coworkers and then the other might say as long as it doesn¹t overflow and jeopardize your working ability, who cares?"
Article continues below advertisement
Also, in previews, Kat Held, comes off as the party girl.
"She's the life of the party," Aleks says. "I knew from the get-go like, 'Okay she¹s going to be a handful'."
David says, "I absolutely adored Kat, but she's criticized heavily throughout the season for her partying."
But after all was said and done, the cast formed some ever-lasting friendships.
"I got along with Eddie, who was also a deckhand and my roommate as well," David says. "And I know Sam and Kat became close friends as well."
"We are all on great terms," Aleks says. "We all talk."
He adds, "But Adrienne, she's on her own level. She's taken this way too far into her head."
Bravo's Below Decks airs 10p ET/PT each Monday.