Exclusive
Amanda Bynes: Kim Kardashian And Paris Hilton Are My Idols!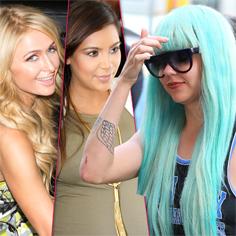 Amanda Bynes recently adopted a puppy and it wasn't by chance — RadarOnline.com has exclusively learned the troubled actress idolized Kim Kardashian and Paris Hilton so much, that she wanted to get a puppy and tote it around like Paris famously used to do.
"Amanda is fascinated by the world of paparazzi. She thought Paris was so glamourous when the paps when follow her around all the time," the insider revealed.
Article continues below advertisement
"She talks about Paris and Kim a lot because she completely idolizes them. It's the weirdest thing. So when she got that puppy she said it was to try and be more like Paris."
According to the insider, Amanda can't stop feeding off all the attention she's been getting from the media and paparazzi.
"She's intrigued by the entire business and will actually talk to the paparazzi trying to find out more about other celebrities," the source told Radar.
"Amanda loves all the attention she's getting. It's like a light switch with her — one minute she's holding a normal conversation and the next minute all she can talk about is the paparazzi, and Kim and Paris!"
Odd that Amanda hasn't tweeted them!