Exclusive
Teen Mom Kailyn Lowry's Baby Daddy Angry Their Son Was Used In 'Sick' Gay Marriage Photo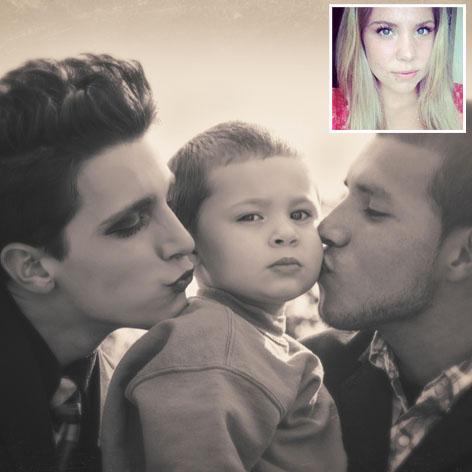 Teen Mom 2's Kailyn Lowry has always been vocal about her support for gay rights, posing for the NoH8 campaign and even involving her son Isaac, and his dad Jo Rivera, in that shoot.
But now, a new photo of Isaac taken in support of marriage equality has Jo lashing out on Twitter, claiming he thinks the image is "sick."
Kailyn organized the shoot with photographeer Kate Hedrick in support of marriage equality, and one of the setups involved her fiancee Javi Marroquin and model Wesley Watkins holding Isaac in between them, as if he were their child.
Article continues below advertisement
"Doesn't this make you sick?" Twitter user @binkyblahblah asked Jo and he responded, "yes it does."
When another user called him out for seeming homophobic, Jo replied, "oh no I'm all for equality. But I don't see how that photo has anything to do with representing equality."
Now, NoH8 has stepped up to offer a statement in support of Kail.
"Children learn about love and acceptance at an early age," a rep tells RadarOnline.com, "and setting an example by standing up for equality is one of the most important things a parent can do for their child. Biases can be learned too, but taking the opportunity to show their child what it's like to stand up for what's right gives that child the ability to recognize and defy those biases. We're proud to see so many parents using the NOH8 Campaign as a teachable moment in their child's development."
Photographer Kate Hedrick adds, "I don't know Jo. People are entitled to their opinions."
Do you agree with Kailyn or Jo? Let us know in the comments.