Exclusive
Woman Files Police Report Alleging She Was Raped At Ray J's Los Angeles Home -- Singer Not A Suspect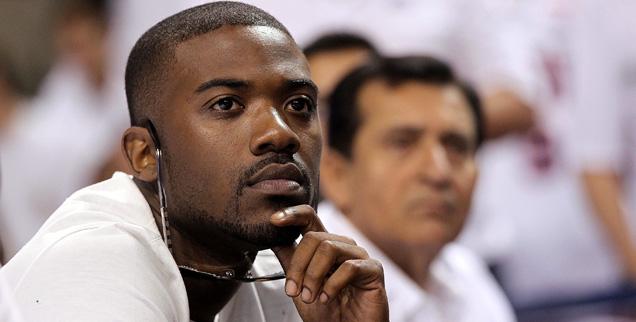 A woman has filed a police report alleging she was raped at the Woodland Hills, Calif., home of Kim Kardashian's sex tape partner Ray J by a member of his entourage during a star-studded party packed with celebrities, RadarOnline.com has confirmed.
Another member of his crew has also been named as a suspect in the complaint lodged with the Los Angeles Police Department.
Ray J -- Whitney Houston's ex-boyfriend -- is not considered a suspect and nor is it known if he had any idea of what allegedly happened at the party.
Article continues below advertisement
The accuser has told cops she got pregnant -- a pregnancy she says she later aborted.
According to the police report filed on June 11, obtained by RadarOnline.com and published in full here, the victim — who police did not name — met the suspects at Boa on Sunset Boulevard in West Hollywood, Calif.
"When the nightclub closed, victim and witness followed the suspects to their friend's home in Woodland Hills, unknown address suspect's friend if Ray Jay (sic) for a small party," the report states.
"While at Ray Jay's house, victim hung with suspect's friends unknown name. The friend left after a few minutes and victim began talking to suspect one. Victim excused herself to use the restroom. Suspect followed victim into the restroom.
"As Victim was attempting to close the restroom door, suspect one forced the door open and entered. He approached victim and hugged her. Victim pushed suspect one away and said, 'no, no.'"
Article continues below advertisement
"You don't want to give me that," the suspect is alleged to have said.
To which the victim said she responded: "No, I don't even know you. I have a boyfriend."
According to the woman's version of events, the suspect continued to force himself upon her.
"He then turned her around and grabbed victim from behind and placed her hands on the sink," the report alleges.
"Suspect held victim tightly with one hand and pulled her pants down with the other. He pulled her pants down to just below he buttocks and forced her to bend over. Suspect one then exposed his erect penis and had forced intercouse with victim. Suspect ejaculated inside victim as he did not use a condom.
"When suspect one finished, he pulled up his pants and walked out of the restroom without saying a word. Victim said she was disoriented afterwards and attempted to gather her thoughts. When she turned to exit the restroom, she saw suspect two on his knees in front of her.
"Suspect two reached up at victim and attempted to pull her pants down. Victim stopped suspect two and told him she would call the police if he did not get out. Suspect two stopped immediately and walked out of the restroom."
Article continues below advertisement
The woman said she walked back to the living room to find a friend. When she found the pal, the pair left the home.
"Victim told this witness what had happened to her at the party and said she was going to call the police," the report says. "Witness convinced victim not to file a police report of the incident due to the number of celebrities that were at the party and reporting it could cause unnecessary publicity and embarrassment to her."
Police noted, "One month later, victim found out she was pregnant. She knew she was pregnant from suspect one. Victim had an abortion immediately after finding out she was pregnant."
The date of the alleged rape was not listed on the report, however a source tells RadarOnline.com it allegedly happened a number of years ago.
The case was first reported by urban blogger Jacky Jasper from Diary of a Hollywood Street King, who published an interview with the woman on the same day she went to the LAPD.
She said he friend told her, "What is your boyfriend going to say? Don't call the cops it's a bad move."
"I called her three days later and told her, 'I want to call the police' and she talked me out of it," the victim told Jasper. "A month later I found out I was pregnant and I had to have an abortion."