Exclusive
Paula Deen Wants To Apologize To Al Roker For Racist Comments Before Being Interviewed By Matt Lauer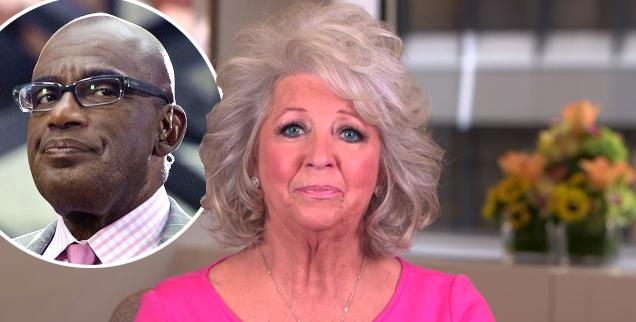 Disgraced Food Network star, Paula Deen, who lost her lucrative gig with the network last week after admitting to using a racial slur, wants to personally apologize for her actions to TODAY weatherman, Al Roker, before her scheduled interview with Matt Lauer on Wednesday, RadarOnline.com has learned exclusively.
"Paula has told producers and Matt Lauer, that she would like to personally apologize to Al Roker before going on the air," a show insider told RadarOnline exclusively. "This is something that Paula wants to do, and is very important to her.
Article continues below advertisement
"She values Al and has tremendous respect for him. They both have a lot in common, their battle of the bulge, a love of food and family. Paula has been extremely emotional since making headlines last week, and she is ready to take responsibility for her actions. She has been physically sickened but has no intentions of backing out of the interview, and is ready to answer the tough questions."
The 66-year-old Southern queen of cooking was dropped from the Food Network after admitting to using the 'N' word during a deposition in a lawsuit filed by former employee.
The Emmy-winning kitchen queen was questioned for three hours for the $1.2 million 2012 lawsuit filed by the former General Manager of their Savannah, Georgia, restaurant, Lisa Jackson.
In terms of racist jokes, Paula said, "It's just what they are — they're jokes…most jokes are about Jewish people, rednecks, black folks…I can't determine what offends another person." She admitted that her husband has told racist jokes in her presence. When asked by Lisa's Atlanta-based attorney if she'd ever used the N-word, Paula responded, "Yes, of course," and gave examples of times she used the offensive term.
Paula posted two video apologies online before the Food Network announced that it would not renew her contract, which expires at the end of this month. Now she's made it known privately she wants to apologize privately to Roker before her TODAY show appearance.
But the popular weatherman doesn't "think it's necessary for Paula to apologize to him....This isn't about Al," the insider said. "She doesn't owe him anything, but he is a gentleman, and a very forgiving person, and will listen to what Paula has to say. Al thinks it's more important that Paula explain her actions to the American public."