Where Will Baby Yeezus Live? Pregnant Kim Kardashian Moving Home With Mom Kris Jenner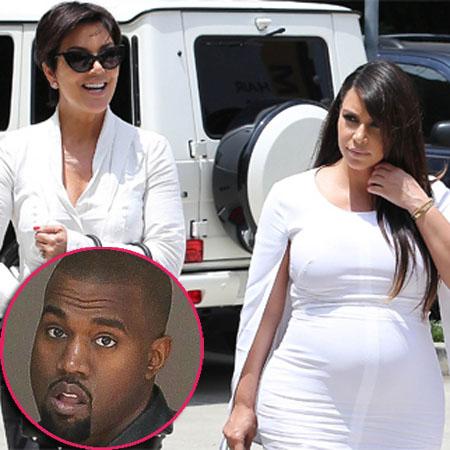 Most expectant parents are busily preparing a nursery for their new baby and spending time together before the birth, but Kim Kardashian isn't nesting with Kanye West and instead she's moving back home with her mother before the baby is born.
Pregnant with her first child and due in July, Kim and Kanye's separate lives have fueled rumors that they may split before the baby even arrives and Kris Jenner's latest interview seems to hint that all isn't well on the Kimye home front.
Article continues below advertisement
Touting her new talking show, Kris revealed to The Hollywood Reporter that her daughter Kim is moving in with her before she gives birth to the baby Yeezus.
"A high chair is stashed in a corner here, alongside boxes crammed with Kim's belongings," the trade revealed.
New parents usually are together with their child, and it would seem unusual for Kanye to move in with Kris too, but things are never normal when it comes to the Kardashians.
Kris' dutiful daughter says she and her baby daddy "have a hotel that she doesn't know about yet," but as RadarOnline.com previously reported, Kim is struggling with balancing her mom and her baby daddy.
"Kim has always relied on her mom to give her the best advice, but now she's struggling because Kanye wants to make sure that they don't overexpose their baby," a source close to the reality star said.With the baby due in about a month, it remains to be seen if living with his baby mama's mama is something Kanye really wants to do.