Kim Kardashian Back In Public -- Sort Of!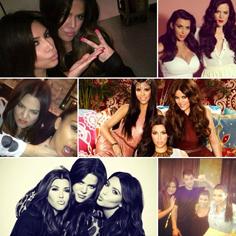 She's baaaaack!
You didn't think having a baby would be enough to keep Kim Kardashian out of the public spotlight for long, did you?
Twelve days after giving birth to her daughter North West, Kim took a baby step returning to public -- via Instagram and Twitter.
No juicy personal information was revealed. Kim, 32, simply wanted to publicly wish sister Khloe Kardashian a happy birthday.
"The most loyal & supportive person on the planet! Life wouldn't be the same without you Kokes," she posted Thursday afternoon with a collage of family photos that included shots of their deceased father Robert Kardashian.
Article continues below advertisement
Khloe turned 29 on Thursday.
Kim posted two sets of photos, the other with the message, "The birthday girl! I love you so much!!!!"
And, no, there was no sighting of North or Kanye.