Kendall Jenner: I'd Quit Reality TV For A Modeling Career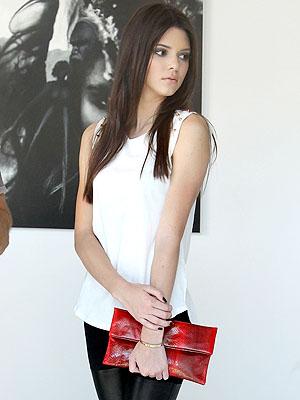 Article continues below advertisement
So much so, she would pick her career on the catwalkover her E! television show!
"I don't think some people take me very seriously," the 17-year-old complained about her modeling reputation. "When I started off, I was way more of a personality in modeling and it wasn't like, what I wanted to be exactly. I want to be more high fashion; I want to be more editorial, but hopefully I'll just prove myself."
When asked what she would do if an agent or client told her that she had to stop doing the television show to be taken seriously as a model, Kendall admitted that she would make the sacrifice and choose her career over her family show.
"I've never gotten that question before… Um, yeah. Probably," she responded.
Kendall, who decided to pursue a career on the catwalk when she was "like, 13 or 14," explains that it is easier for her to maintain a low profile when she is not with her high profile family.
Article continues below advertisement
"I haven't been recognized much," she tells them about a recent trip to New York City. "Taking a lot of taxi cabs, wearing sunglasses… but yeah, when I'm here with my family, everybody knows which hotel we're staying at. It's a little bit crazier."
When the magazine's interviewer snarkily makes a joke about her momager, Kris Jenner, being "so low profile," Kendall has no qualms about answering sarcastically.
"Oh, exactly," she responds.