So He's Not A God? Kanye Admits He's A 'Commercial Celebrity Boyfriend' In New Rant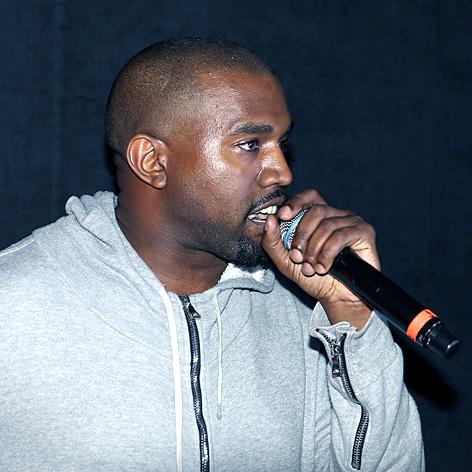 Is Kanye West suffering from an identity crisis? After declaring "I am a God" and naming himself "Yeezus," Kim Kardashian's baby daddy admitted he was just a "commercial celebrity boyfriend," while also comparing himself to Steve Jobs and Andy Warhol, in a new rant at Art Basel in Switzerland on Wednesday night.
Appearing in the Rick Owens furniture showroom just after 11 pm, Kanye told the crowd of 200 art aficionados, "I feel almost like Steve Jobs giving one of those addresses right now." And for those who might not equate him with the Apple magnate, he insisted, "I fight in my position of being a very commercial celebrity boyfriend. I fight to push culture forward every chance I get."
Article continues below advertisement
Being on girlfriend Kim Kardashian's arm, he said, sometimes distracts him from that higher purpose. "I only frown because paparazzi ask me dumb**s s**t all the time, and I think about changing the world. I think about what I can do to make things better," he said.
The Black Skinheads rapper insisted that his race sometimes holds him back in that quest as well. "When I used to go to fashion shows with my boys … it was almost like a civil rights sit-in," he said. "They wouldn't even let us in. They had no idea what rap would mean … to the art world."
In fact, he claims, he's the black Andy Warhol. "What I want people to understand about sampling and producing is that it's really similar to -- and I know this is obvious what I'm going to say, because I'm a black guy so I'm gonna name the 'most obvious artist in the world, Warhol -- but it's very similar to the … Warhol would appropriate a Campbell's Soup can is the way I would sonically appropriate a Ray Charles sample or a Michael Jackson sample."