Talk About A Major Diss! Kanye West Ridicules Momager-In-Law Kris Jenner During Interview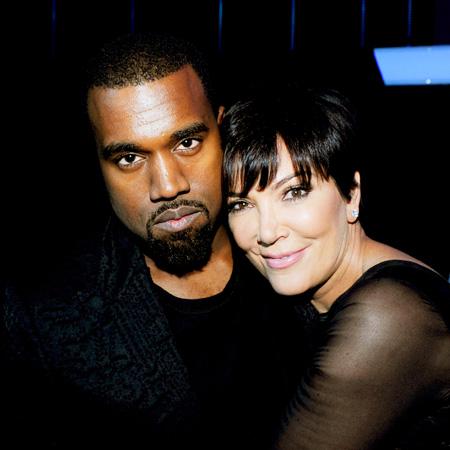 Looks like there is a lot of tension between Kim Kardashian's baby daddy and her mother!
During a high-profile interview with W, Kanye West majorly mocked North West's granny Kris Jenner in front of the fashion magazine's journalist, after she attempts to pay him a compliment – and RadarOnline.com has the details.
"One night when I'm scheduled to meet West at his apartment around 10 p.m., I walk in to find some Kardashians in the house," writes Christopher Bagley about his experience with West in Paris.
Article continues below advertisement
"Kim has just headed back to Los Angeles after one of her brief Paris visits, but her brother, Rob, is sprawled on West's gigantic Living Divani sofa with his girlfriend, the English model Naza Jafarian. They both offer friendly handshakes, then return to their smartphones. Next, Kim's mother, Kris Jenner, drops by and looks around the apartment, which she's seeing for the first time."
The famous momager, who is expected to publicize her daughter's first-born on her new talk show, made several efforts to compliment the rapper, but her advances backfired.
" 'This is amazing!' she says as West shows her some of his favorite objects, including a new set of ceramic cups by Frances Palmer. Jenner's rapport with West evinces equal parts jokey affection and in-law awkwardness. He plays her some of his unfinished songs, including 'Awesome,' which is clearly about Kim. When she exclaims, 'Great job!' West doesn't find it as flattering as Jenner evidently intended.
Article continues below advertisement
"He raises his eyebrows. 'Great job?' he says and sets off on a comic riff that cracks up everyone in the room. Toasting with his champagne glass, he says, 'Great job, Baccarat, for making a glass that can hold liquid!' He looks down at his waist. 'Great job, belt loops, for keeping my pants up!' Jenner laughs off the mockery but soon is ready to leave. Hugging West goodbye, she tells him, 'I love you. You know where to find us, at the George V. Call us tomorrow, if you want.' It seems apparent to everyone, including Jenner, that West will not call."
Do you think Kanye West was being rude to Kris Jenner? Sound off below.