Exclusive
Kim Kardashian Cheating Scandal: This Is The Moment Canadian Model Claims Started Her Affair With Kanye West – See The Video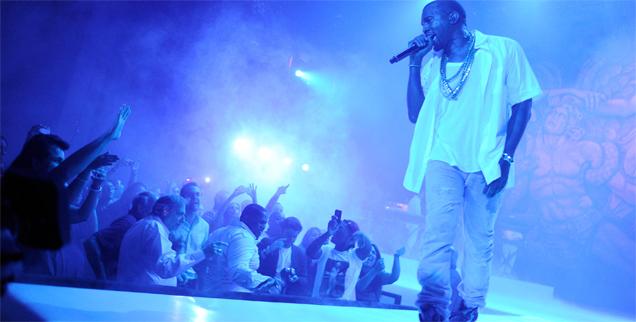 This is the moment that Kanye West first noticed a Canadian model/bartender who claims she twice slept with the singing superstar – once while his girlfriend Kim Kardashian was pregnant.
RadarOnline brings you the video from July 6, 2012 as Kanye performs the song Mercy at Ovation Hall in Atlantic City.
Leyla Ghobadi claims in the new issue of Star magazine that Kanye spotted her in the audience during this song and had his bodyguard bring her backstage. She tells Star she slept with Kanye the next night, and in October, when Kim was pregnant.
Article continues below advertisement
Leyla attended the concert with friends and told the mag she had front row seats. "When Kanye began performing their favorite song, "Mercy," Leyla went wild and jumped up on the shoulders of one of her pals," the mag writes.
"Kanye pointed me out to one of the bodyguards," she told Star.
Next thing you know the model/VIP bartender/world traveler was backstage courtesy of Yesus. And while he tried to bed her that night, she resisted. The next night, however, she says she gave in and they had sex in a hotel room.
Check out the video below of Kanye performing Mercy at the moment Leyla says they met. The crowd is right against the stage but can you spot her in the crowd?
youtube
Kim Kardashian has denied the affair report and Kanye did not return Star's request for comment.