Kanye West Appears On Kardashian Reality Show Only For Kim, Claims He's Super Smart But Says Things That Are 'Retarded'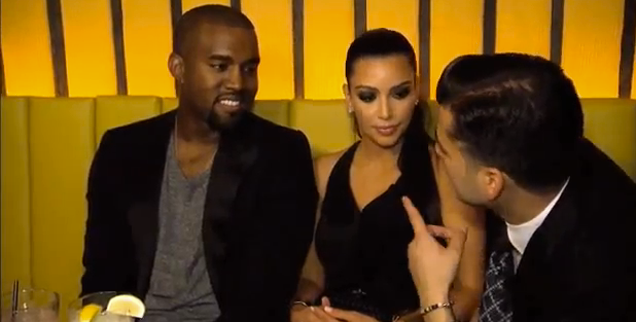 Kanye West wants you to know as little as possible about him but one thing he has to tell you is he is a deep, deep thinker who can't express himself well, so sometimes the things he says are -- his word -- "retarded."
Oh good, point Mr. West!
(Hey, anyone remember when Jennifer Aniston used the word "retarded"?)
In a new interview with W Kanye let's loose, and says he appears on the Kardashian reality shows (reluctantly) only because Kim is the love of his life and then gives a glimpse into his giant intellect.
Article continues below advertisement
"God's little practical joke on me—as an intellect who doesn't like to read a lot—is like, I'll say some superphilosophical sh*t, but I'll say it the wrong way. I'll use the wrong word, so it goes from being really special to completely retarded," he says, "laughing."
The controversial rapper not only opens up about his relationship with the reality star and explains why, despite his anti-paparazzi stance and his penchant for privacy, he has made appearances on her reality show but also declares himself the biggest rock star in the world, and RadarOnline.com has the details.
"Oh, that's just all for love. It's simply that," the new father of North West explains about his decision to appear on Keeping Up With the Kardashians.
"At a certain point, or always, love is more important than any branding, or any set of cool people, or attempting to impress anyone. Because true love is just the way you feel.
"Thoughts and feelings can disagree sometimes."
West, who has never been known for his modesty, praises himself during the extensive interview when asked about his new song, I Am God.
Article continues below advertisement
"It's like, Yo! Nobody can tell me where I can and can't go," West says, explaining the song was inspired by being seriously dissed at Paris Fashion Week by a top designer. "Man, I'm the No. 1 living and breathing rock star. I am Axl Rose; I am Jim Morrison; I am Jimi Hendrix."
According to the interviewer, Christopher Bagley, West was not smiling as he said this, and his voice was "getting louder with each sentence."
"You can't say that you love music and then say that Kanye West can't come to your show! To even think they could tell me where I could and couldn't go is just ludicrous. It's blasphemous—to rock 'n' roll, and to music.
"Visiting my mind is like visiting the Hermès factory. S**t is real. You're not going to find a chink. It's 100,000 percent Jimi Hendrix," he also ranted and you can draw your own conclusions about his choice of words.