Exclusive
I'm Sorry: Model Who Claims Kanye West Cheated With Her Apologizes To Kim Kardashian, Insists 'I'm Not The Bad Guy'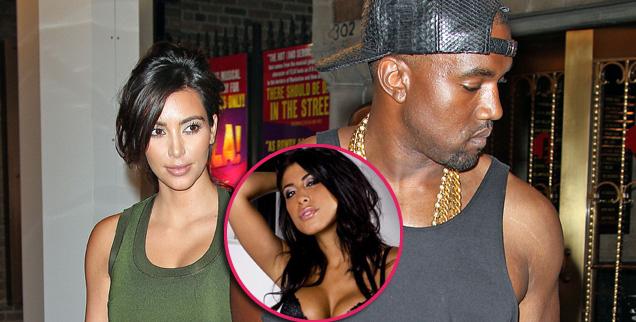 The woman who claims Kanye West cheated on Kim Kardashian with her is sending a message to the pregnant reality star in the wake of the scandalous storm: I'm sorry.
Leyla Ghobadi, a Canadian model and self-described VIP bartender/waitress told Star magazine that she had two sexual encounters with Kanye while he was with Kim, staring in July, 2012.
Now as her cheating charge is creating a swirl of controversy, RadarOnline reached out to Leyla and asked what message she would send to Kim if she found herself in a position to talk to her.
Article continues below advertisement
"Sorry," Leyla answered RadarOnline.com via Twitter. Then she added: "Maybe I went about this the wrong way but how else am I meant to get thru to her?
"I am NOT the bad guy in this situation, nothing more 2 say."
But Leyla has plenty to say, and the juicy details are in the new issue of Star.
Attending a Kanye show on July 6, 2012 in Atlantic City, Leyla claims that as she was next to the stage Kanye noticed her and had his bodyguard later bring her backstage.
Before you could say "Yeezus" the two went to a club and Kanye invited her back to his hotel room. She says she declined but accepted the next night and had sex with West.
She also says she hooked up with him in October when Kim was first pregnant.
As RadarOnline.com earlier reported exclusively, Leyla lives a life with luxurious benefits, including a recent European vacation that included stops in Greece, France, Spain and more.
Article continues below advertisement
She set up a Twitter account Wednesday as reports of her tell-all exclusively in Star created headlines. And while much of the celeb-watching world was left wondering about the future of Kimye, Leyla seemed unconcerned.
"Looking forward to a sweet little escape…RockFest," she posted on her Facebook page, referring to a music festival she's planning to attend June 14 and 15.
As more people questioned her on social media, Leyla tweeted: "The woman will always get the blame for everything huh." And asked why she didn't approach Kim privately she tweeted: "You think it's that easy to get in contact with her?"
As Leyla was questioned more and more on Twitter she grew slightly testy when one person asked her for proof of the relationship with Kanye. "Proof? Yeah because I was going to take pictures of myself (censored) him," she wrote. "I could show u calls but I'm not about to put his number on twitter."
Kim and Kanye's reps have denied Star's report.