Exclusive
Ex-'Bachelor' Winner Makes Shocking Claim - Desperate Contestants Use Steroids Before Going On Show!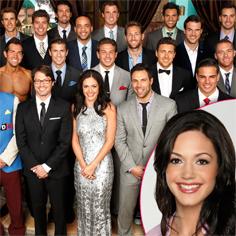 Watching this season of The Bachelorette starring Desiree Hartsock, you may have noticed that some of the men are sporting some pretty awesome physiques. During the premiere episode, Zak Waddell got out of the limo shirtless and Desiree couldn't help but stare at his nicely defined six-pack and big, muscular arms. And while there hasn't been that much shirtlessness yet, looking at the other guys' arms and legs, it's clear that these men enjoy the gym.
Article continues below advertisement
You have to wonder, though: Are these bodies natural – or do the guys use a little something to help boost their muscle growth?
While the contestants have to undergo a rigorous screening process, which includes drug testing and STD testing, the casting directors may not be testing the guys to see if they are using steroids.
"I know that a lot of guys do steroids before they'll go on the show," Jesse Csincsak, who won DeAnna Pappas' season of The Bachelorette, tells RadarOnline.com exclusively. "They don't tell you to. They just don't test for it." (RadarOnline.com is not suggesting Waddell uses anything beyond hard work in the gym to get that physique!)
But the contestants are tested for other types of drugs.
"They'll drug test you, but they're drug testing you for illegal drugs like cocaine and stuff like that," Jesse says. "They take a urine sample. They take a blood sample. They even told me to stop smoking weed, and I don't smoke weed."
And according to medical reasoning, it's possible that the contestants aren't being tested for steroids.
"Most commonly, for anabolic steroids, there are only a handful that people check," Dr. Sean Nordt, MD, Pharm.D and Director of Toxicology in the Emergency Medicine Department at the University of Southern California, tells RadarOnline.com. "And you can't find it if you don't look for it."
Article continues below advertisement
Dr. Nordt explains that a simple urine screening is used for steroid testing, but "if you test for the wrong ones, you won't find it."
He adds that if the test is "not done in an appropriate time frame, you also won't find it."
Plus, people have ways of hiding the steroids.
"The way that a lot of people use steroids, they'll use injectables or long lasting, so they will stop and use short acting ones prior to a test being done," Dr. Nordt says. "Or they'll try to mask it by drinking lots of fluids."
Another source close to production says that the people handling the contestant auditions don't inform the contestants if they are being tested for steroids.
"I can assure you that they don't," the source says. "I mean, why would they be concerned about someone taking steroids?"
But the show does place a lot of emphasis on good looks and physical attractiveness.
"When they have you come into the room, they're definitely looking for that sort of thing," Jesse says. "They'll even have you take your shirt off in casting."
Article continues below advertisement
Ben Flajnik, who first was the runner-up on Ashley Hebert's season on The Bachelorette and then went on to star as The Bachelor for season 16, felt the pressure to fit a certain mold.
"Of course you want to be in shape," he tells RadarOnline.com.
He also reveals that as the star of his own season, he had a say in what type of contestants were cast for him to meet.
"As the lead there, you do have input into what you're sort of looking for in a spouse," he says. "Honestly, certain physical attributes and mental ones too, and careers and things like that. It may differ from season to season, but I know I was asked all those questions so they could pull a nice group of women that I would be interested in."
So if steroids help a man achieve that physical attractiveness that the show is known for, it's seems possible that steroid use is being overlooked.
"Obviously the human body is drawn to physical attraction first," Jesse says. "So, if a guy has big muscles, that weighs heavily."
Plus, if the male contestants do use roids, roids may help fuel some of the anger that leads to physical fights seen on the show.
"Roids make you angry," Jesse says. "That makes for good TV. So steroids are probably the producers' drug of choice for dudes because they can get them angry, boozed up, and ready to fight."
ABC and Warner Bros had "no comment" when RadarOnline.com asked them if they test potential contestants for The Bachelor/The Bachelorette for steroids.