Exclusive
'RHOA' Star Cynthia Bailey: 'I Was Honored To Be A Part Of NeNe Leakes' Wedding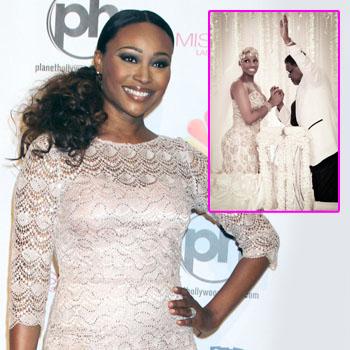 Article continues below advertisement
"I was so happy to see her and Gregg work out their marriage," she says.
"They've been together for 15 years and they separated and divorced and then found their way back to each other, so it was even more extra special to be part of it the second time around."
And Cynthia particularly enjoyed spending time with housewives from other shows besides Atlanta including Gretchen Rossi from Orange County, Marysol Patton from Miami, and Jill Zarin, formerly part of the New York City cast.
"It was great," Cynthia says. "Being on the Bravo platform, whether we get to see each other that much or not, we all kind of feel connected because we are all in the same boat."
Reality TV can be a nightmare, but building connections like Cynthia has with the other housewives makes it easier to handle.
"Reality TV is not easy," she says. "So we all know what we signed up for and that just makes us connect, like 'How was last season for you?' or 'How was the first season for you?'"
Article continues below advertisement
Cynthia adds, "We're all in it together, so we really have a bond even though we don't know each other that well."
Besides the drama, Cynthia has a lot to look forward to this upcoming season of the hit Bravo show.
"The Bailey Agency is doing big things," she shares. "I'm doing my Cynthia Bailey model search again. I'm doing my Renaissance Pageant again."
And she even got to recently accompany NeNe to the Miss USA pageant, which gave her a lot of ideas of how to run her own pageants.
"I was excited to get the opportunity to go to Miss USA with NeNe who was a judge a couple of weeks ago and I really got to see how a pageant is done on the highest levels," Cynthia says. "That was awesome. I made a lot of good connections and got to see first hand how it should be done."
It's very important to Cynthia that she is able to do these pageants correctly and run her modeling school with high standards because she acts as a role model to young girls and boys.
"I'm not perfect and I never want to put it that way, however I am learning as I go," she says.
"I really try to handle myself with class and handle and carry myself in a way that is respectable. If I can instill those qualities into the young kids that come to my school, I think that's great."