Exclusive
Unluckly-In-Love 'Teen Mom' Chelsea Houska Tries Internet Dating -- Scores A Hot, Construction Worker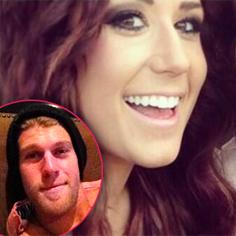 For the past week, Teen Mom 2 star Chelsea Houska, 21, has been flirtatiously tweeting up a storm back-and-forth with a 24-year-old construction worker from Carmel, Calif. named Andrew Craft.
But as RadarOnline.com has learned, there's a catch to this new and fledgling relationship… they haven't even met each other yet!
"They started talking through social media/Facebook and he didn't know that she was from Teen Mom at first," a source close to Chelsea tells RadarOnline.com exclusively. "She hasn't met him in person as they just started talking a week ago."
Article continues below advertisement
For the past several years, Chelsea spent much of her time riding an emotional roller coaster with her ex-boyfriend Adam Lind, 22, who is also the father of her 3-year-old daughter, Aubree, but that's over with finally.
"She's totally done with the Adam crap," the source says.
So now, Chelsea is looking for a guy who will treat her right — and it's possible that Andrew is that guy.
"She came across Andrew and thought he was good looking and funny (he makes videos on vine) and then added him on Facebook and then started chatting with him and exchanged numbers," the source says. "He seems really nice and funny and not to mention, pretty darn good looking!"
Plus, it doesn't bother Andrew that Chelsea is a mother.
"He says he doesn't mind that about her at all," the source says.
Chelsea is so interested that if their long distance chats keep going well, she might plan to meet Andrew in person soon.
"She goes out to LA sometimes, so they might meet up then," the source says. "Or he might come visit her if things are going well."
While the source says Chelsea has "never tried Internet dating before" this, the source also emphasizes that it's a great way to meet people.
"It's kind of necessary to meet people online when you're stuck in South Dakota like Chelsea is," the source says.