Exclusive
Atlanta Socialite Claims Real Housewife Porsha Stewart 'Tried To Get With' My Fiancé!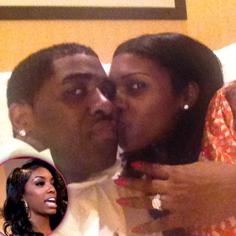 The Real Housewives of Atlanta are no strangers to drama. But now, one of the biggest recent scandals is playing out off-screen. Insiders initially dismissed reports that Porsha Stewart had an affair with producer Ralo Wonder while married to Kordell, as RadarOnline.com reported. But now, Wonder's Fiancé and the mother of his child, Crystal Mocahantas Barnes, is coming forward to say that Porsha did try to steal her man.
Article continues below advertisement
Alleged sexts from Porsha to Ralo "are definitely not made up," rumored RHOA cast member Crystal tells RadarOnline.com exclusively.
"Ralo was going to visit with Porsha because they were going to do a business deal," she explains. "Porsha wanted to be signed to his record label."
Then, Crystal claims, "Porsha tried to take it somewhere else. She tried to get with him." The supposed responses from Ralo, while enthusiastic and R-rated, were created by an impostor.
"Someone stole his phone and put the messages on there," Crystal says. "Someone stole his phone and was pretending to be him. He didn't go and give out those text messages to the media."
In fact, she says, she and Ralo are happier than ever: engaged, moving into a mansion, and enjoying their new son, who was born two weeks ago.
"Me and my family are so good," Crystal says. "We're getting ready to move into our $7 million house. I'm not really worried about what's going on out there."
But the drama could resurface soon, since Crystal is rumored to be joining the cast of The Real Housewives of Atlanta alongside Porsha.
Confirming she is in talks with Bravo, Crystal says, "We're having talks about possibly being on the show, but it's not official yet. It depends on a lot of things. I just had my son, so I'm just starting to get back to my businesses and such."
But she hints, "If I were to be on the show, it probably would be pretty juicy. So I guess we'll see!"