Ex-Supermodel Angie Everhart Diagnosed With Thyroid Cancer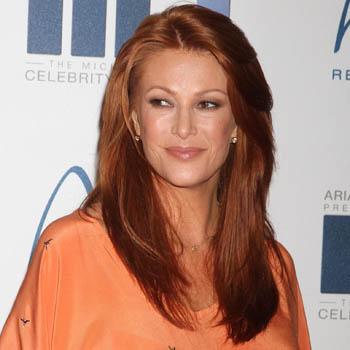 Angie Everhart has been diagnosed with thyroid cancer, a rep for the former Sports Illustrated model has confirmed.
The 43-year-old single mom is scheduled to undergo surgery on Tuesday and hopes to recover quickly to care for her three-year-old son, Kayden Bobby Everhart. "She expects to be back to work and to mommy duties in a few weeks," her spokesperson told Us Weekly in a statement.
"The most important reason she is revealing this information is to encourage people to learn about cancer prevention, its signs and treatment immediately. She would also like to thank those who have provided such tremendous support."
Article continues below advertisement
There had speculation recently about the Last Action Hero star's health, but her rep stressed that there was no reason to panic.
"Word has been trickling out about supermodel/actress Angie Everhart's health," the spokesperson said.
"She wants to set the record straight by letting everyone know that it is true that she has been diagnosed with thyroid cancer, however the prognosis is very good."
Everhart, who co-hosted the ABC reality show The Ex-Wives Club in 2007 along with appearing on Celebrity Mole: Yucatan and The Real Gilligan's Island, was briefly married to Ashley Hamilton and then in engaged to actor Joe Pesci before their broke up in 2008.
She gave birth to Kayden in July 2009 but chose to keep details of his father private.