'I Think I Wore It Better!' Robin Williams Mocks Kim Kardashian's Met Gala Gown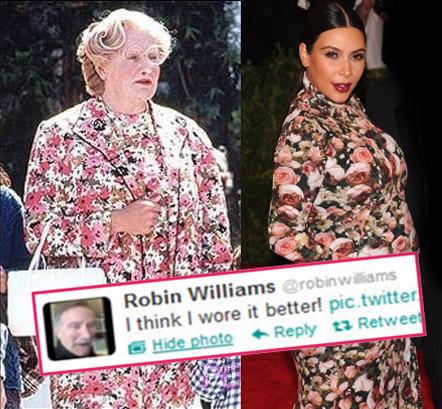 Robin Williams clearly wasn't a fan of Kim Kardashian's Met Gala gown choice!
The Oscar winning actor, who usually refrains from commenting on other celebrity's fashion choices, couldn't help himself from mocking the 32-year-old's Riccardo Tisci for Givenchy floral frock by posing a 'Who Wore It Best' challenge between her and his famous character from the 1993 film, Mrs. Doubtfire – and RadarOnline.com has the hilarious photo.
Article continues below advertisement
"I think I wore it better!" Williams captioned the split image of himself, dressed up like octogenarian nanny Euphegenia Doubtfire, wearing an almost identical dress to the pregnant reality star.
Though Kim's choice of couture has come under fire by many fashion critics, the designer defended the look in a statement to WWD.
"People can say what they want," he said. "To me, pregnancy is the most beautiful thing in the world, and when you celebrate something, you give people flowers…She was the most beautiful pregnant woman I dressed in my career."
Whose looks do you love more: Mrs. Doubtfire or Kim Kardashian's? Sound off below.