Amanda Berry Finally Returns Home As Details Emerge Her Young Daughter Helped Lead Escape From Kidnap House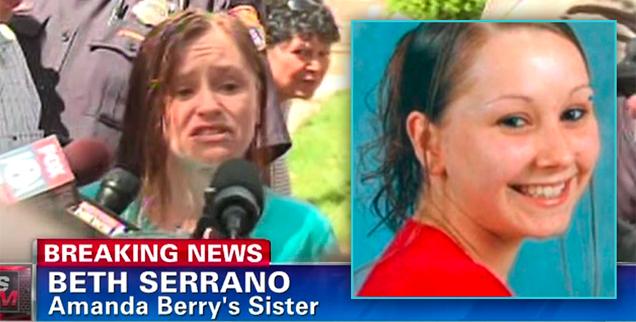 Amanda Berry returned to her sister's home in Cleveland, Ohio Wednesday.
It's been 10 long, painful years.
With police,neighbors, media, friends and family outside, the woman who survived an unthinkable ordeal chose not to speak to the public at this time, after first indicating she would address the media.
Instead, Amanda's sister informed everyone that the Berry family was extremely thankful to the community but now they wanted a measure of privacy.
Article continues below advertisement
Amanda heroically led the escape from Ariel Castro's house of horror, breaking out and freeing herself along with Gina DeJesus and Michelle Knight. The women had been kept chained and were beaten.
A new report said that it was Amanda's six-year-old daughter who gave her the key piece of information that allowed the escape. The little girl said that Castro was leaving the house to visit "grandma." (Castro is believed to be the father of Amanda's child.)
But Castro had previously tricked the women -- telling them he was leaving and then beating them viciously when they tried to escape, several outlets reported. This time, however, he did leave and Berry led the way to freedom.
With a community and nation wanting to embrace Amanda, she chose to make her homecoming more of a private affair and although she chose not to talk her courage was still being marveled at nationally.