Exclusive
Lindsay Lohan Avoiding Brooke Mueller In Rehab, Calls Her A 'Drug Addict'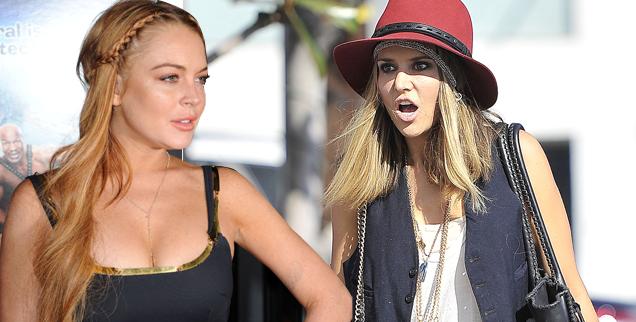 Brooke Mueller is extremely eager to become a BFF rehab buddy with Lindsay Lohan, as the two are both at the Betty Ford Center, but Lindsay is shunning Charlie Sheen's ex-wife and calls her a "drug addict," RadarOnline.com has learned exclusively.
Lindsay and Brooke attend the same nightly meeting and Brooke is eager to become pals. But Lindsay's not going to let them happen.
In fact, it's absolutely "creeping Lindsay out that Brooke seeks her out nightly at the meetings in an attempt to strike up a friendship," a source told Radar. "Brooke is extremely eager to become besties with Lindsay while in rehab, and has told Lindsay how much they have in common.
Article continues below advertisement
"Brooke's publicist was Lohan's one-time rep, Steve Honig," and Brooke has even played the Charlie Sheen card, pointing out that Charlie helped Lindsay pay off debts to the IRS, so they both have a close relationship to him.
Yeah, that's not working either!
"Lindsay has said that Brooke is a drug addict, and wants nothing to do with her," the source says. "Lindsay has told her treatment team to keep Brooke out of her group sessions." (It is not clear if that request is considered or honored.)
MORE ON:
Betty Ford Center
As we previously reported Mueller entered the Betty Ford clinic for a 30-day stint, because she specifically wanted to be in rehab with Lilo. Mueller has lost temporary custody of her twin boys Bob and Max to Sheen's ex wife Denise Richards.
Mueller, 35, was not legally forced to enter rehab, sources told us, adding that she's not guaranteed to receive custody of the boys back when she's through. She has battled a drug problem for years, and this is her 20th trip to rehab.
Multiple sources reveal that Mueller is desperate to become a celebrity. "She isn't fazed by all of the negative publicity she has been getting since losing custody of Bob and Max to Denise Richards," one source told Radar. "In fact, she loves it, and thinks it will help her chances of landing a role as an actress on a television sitcom.
She always harassed Charlie when they were married to use his connections to get her acting jobs!"