Exclusive
Kim Zolciak's Ex-Publicist Reveals 'Rough Around the Edges' Star Was Ultimate Nightmare Client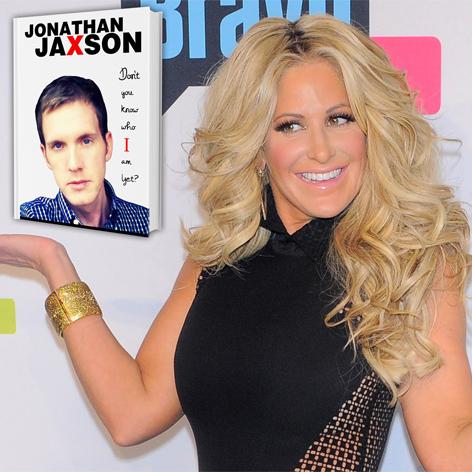 It's hard to imagine, but just five years ago the world had never heard of Kim Zolciak.
Now, the man who says he's responsible for making her a larger-than-life reality TV icon, her very first publicist, Jonathan Jaxson, is claiming she was the client from hell — and only RadarOnline.com has an exclusive excerpt from his self-published upcoming tell-all, Don't You Know Who I Am Yet?
When Jaxson first met Kim, shortly before filming for the first season of Real Housewives of Atlanta began in 2008, "She was definitely rough around the edges," he writes. "A chain smoker who enjoys drinking, spending money, cussing like a sailor and causing drama."
Article continues below advertisement
For $4,000 per month, Jaxson said he helped make Kim into a star over the next two years -- but it wasn't always easy.
"Kim and I disagreed on a lot of things, and we often fought like siblings," Jaxson remembers.
"She was a difficult client because it's best when someone will listen and take my advice. That's the only way I can really help is if they let me lead the way. A client with their own ideas can take a lot of hard work and derail it in an instant. It was frustrating because I could see all of her potential and I genuinely wanted to help her get to the next level in her her career."
Ultimately, he did.
But even as Kim became a bigger and bigger star, she baulked at paying Jaxson's fees and he was forced to sue her in small claims court. (Jaxson — who describes himself online as a "Publicist/Manager/Marketing/Consulting/God Fearing/Realtor" -- is no stranger to legal battles with celebrities. In 2012, he was threatened with a defamation lawsuit from Kim Kardashian, after he claimed her over-the-top wedding to Kris Humphries was a sham. He also called the NYPD on Amanda Bynes in a desperate panic in May, because he said, she'd told him she didn't want to live anymore.)
Article continues below advertisement
Writing about Kim, Jaxson said she started to blame him for tensions with her co-stars. In the infamous 2010 wig-snatching incident, for example, Sheree Whitfield yelled "F**k Jonathan Jaxson!" after Kim said he was spreading rumors.
"She would often try to accuse me of things that were not true in order to place blame somewhere else, on someone, anyone but herself," he writes.
"As someone who was providing a service for her, she seemed to feel that she could use me to take the heat off of her. But I always came back fighting to save my name."
Jaxson does just that in the book Don't You Know Who I Am Yet? -- out June 4 -- available for pre-order on his website. He toldRadarOnline.com that half of the proceeds from all pre-orders will go the the Red Cross of Oklahoma.