Dangerous Dieting? Katherine Webb Eats Only 1,100 Calories A Day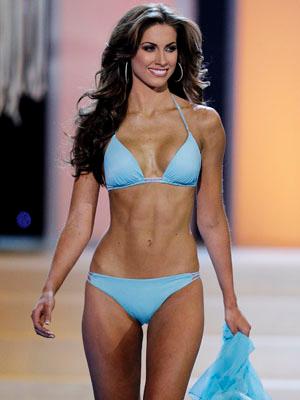 How does 5-foot-11 Katherine Webb maintain her fabulous figure? By eating very little!
In a new diet tell-all, Miss Alabama 2012, who sky-rocketed to fame during the BCS National Championship game as the smoking hot girlfriend of Alabama quarterback A.J. McCarron, reveals a day in her eating diary, which People magazine tallied up to a measly 1,120 calories – and RadarOnline.com has the details.
Webb, who stripped to her swimsuit and competed on the diving show Splash, starts her day with an 8-oz homemade smoothie with fruit, protein powder, almond milk and one packet of sweetener, followed by a green apple shake later in the morning.
Article continues below advertisement
For lunch, the 24-year-old consumes water with lemon and a spinach salad with almond pieces, fruit and fat-free balsamic vinaigrette, and enjoys a Weight Watchers Strawberry Smoothie frozen yogurt bar for a snack.
For dinner, she drinks water with lemon and eats grilled chicken fingers with fat-free honey mustard and sweet potato fries.
Nutritionist and author of The Fast Metabolism Diet Haylie Pomroy told the magazine that Webb should be consuming hundreds more calories than she is.
"Katherine does an amazing job of eating three meals and two snacks, fueling her metabolism," she explains, but with three workouts a week, "she could add at least 600 more healthy calories."
Do you think Katherine Webb eats enough? Sound off below.