She's Tweeting Again! Jodi Arias Posts Message About 'Gods Love' After Jury Finds Her Eligible For Death Penalty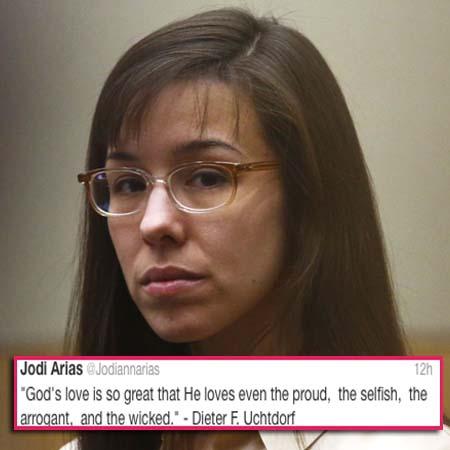 Hours after a jury found she is eligible for the death penalty, Jodi Arias – through a friend – took to Twitter Wednesday to post a quote from a prominent Mormon leader. (Arias converted to Mormonism while dating Travis Alexander, the man she later murdered.)
The quote? "God's love is so great that He loves even the proud, the selfish, the arrogant, and the wicked." - Dieter F. Uchtdorf
Prior to that, Arias had tweeted on her behalf , in a pitch to sell her "Survivor" t-shirts for $15, which comes with this disclaimer, "A portion of the profits generated from the sales will support other survivors of domestic violence, and go to Non-profit Domestic Violence organizations selected by Jodi." The site also states, "Also note that no returns or refunds are accepted."
Article continues below advertisement
Meanwhile, as RadarOnline.com previously reported, the death penalty phase is scheduled to begin on Thursday, during which the jury must determine if Arias, 32, is to be sentenced to death by lethal injection or to life in prison.
This phase of the trial comes after the jury Wednesday -- after deliberating for only 93-minutes -- found that the former waitress had shown "extreme cruelty" when she brutally murdered her former lover, Travis Alexander, in June 2008 at his Mesa, Arizona home when she stabbed him 29 times, slit his throat and shot him in the face, after a day of sex.
During the penalty phase on Thursday, pit bull prosecutor Juan Martinez will call Alexander's family and other witnesses in an effort to convince the jury Arias should face the ultimate punishment, following her conviction last week on a first-degree murder charge. Arias' defense lawyers will have her family members and friends testify in an attempt to gain sympathy from the panel to spare her life.
Arias could also take the stand in her own defense, although in past interviews, she has stated that she would prefer the death penalty to life behind bars.
Thursday's hearing is set to resume at 1:30 pm ET, and RadarOnline.com will continues its live streaming at that time.