Exclusive
Emergency Hearing: Denise Richards Heads To Court To 'Prolong' Her Custody Of Charlie Sheen & Brooke Mueller's Twins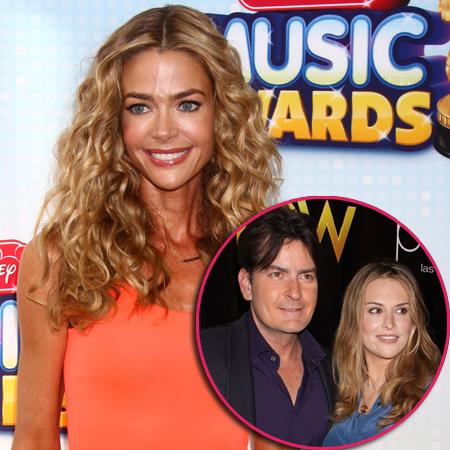 UPDATE 10:32 a.m. -- As RadarOnline.com first reported, Denise Richards went to court -- and brought along Charlie Sheen for the occasion. The pair arrived just after 9:00 a.m. PT for the hearing.
---
Denise Richards is heading to child dependency court in Los Angeles on Tuesday morning, as the Los Angeles County of Department of Children & Family Services will ask a judge to extend temporary custody of ex-hubby Charlie Sheen and Brooke Mueller's twins, RadarOnline.com is exclusively reporting.
Article continues below advertisement
"Denise isn't required to be in court, but she plans on being there to convey to the judge how serious she is about being Bob and Max's temporary guardian. Lawyers for Brooke Mueller and Charlie Sheen are also expected to attend the hearing, which will be closed to the public. Social workers are going to ask the judge to extend Denise's custody of the boys for the next 30 days, at least. Bob and Max won't be placed back in Brooke's care until officials feel that they will be safe in her care. Brooke is going to have jump through hoops to get them back. Going to rehab is going to be enough. She has been nineteen times in the past, and currently getting treatment for the twentieth time. The boys are thriving in Denise's house, and since Charlie lives in the same gated community, he has been spending more time with them," a source told RadarOnline.com exclusively.
It's unclear if Mueller will attend the proceedings, and she has extended her stay at the UCLA for another two weeks.
As RadarOnline.com was first to report, last Wednesday, the 35-year-old was 5150′d under the Californian Welfare Institutions Code – the same evaluation that Britney Spears went under in 2008 – that allows for a qualified peace officer or clinician to involuntarily confine someone because it's deemed they have a mental disorder that makes them a danger to themselves and/or others.
Article continues below advertisement
Then, in the wake of the 5150, the Los Angeles County Department of Children and Family Services took away Mueller and Sheen's four-year-old twins, Bob and Max, because of fears their mother's drug use could endanger them.
In a statement to RadarOnline.com, Sheen said he supported the decision of DCFS to remove his children and install his second wife, Denise Richards, as temporary custodian.
"Charlie supports the actions of the Department of Children and Family Services," Larry Solters, the star's publicist, said.
"He knows Max and Bob are safe and in a stable, loving environment with Denise and the boys's sisters. Charlie will fully cooperate and fully participate in all proceedings."
Social workers "have paid several visits to Denise's house to check on Bob and Max. They found the boys to be loved and cared for. Denise is just an amazing mom. Denise and the girls will always be there for Bob and Max, period," the source said.
How long would Denise be willing to take care of them for, "as long as she is needed to. There is no timetable for Denise. Whether it be one month, one year, she is in it for the long haul," the insider revealed.