Exclusive
'Biggest Loser' Cheating Scandal: Pregnant Stephanie Anderson 'Knew All Along' Sam Poueu Was Unfaithful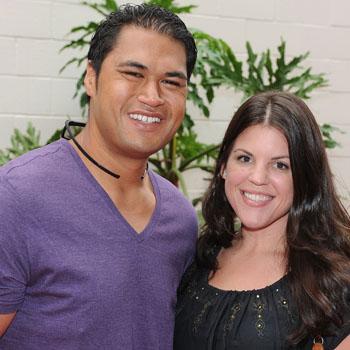 Biggest Loser alum Stephanie Anderson is seven months pregnant and filed for divorce from her husband Sam Poueu because he was cheating, and RadarOnline.com has exclusively learned she knew all along and couldn't handle it any longer.
"Sam has always had an eye for other girls," a source close to Stephanie told Radar.
"Stephanie thought he was cheating for a very long time. He wasn't very good at covering up his actions."
Article continues below advertisement
In hindsight, evidence of Sam's infidelities can be traced back to his Twitter page — which is full of interactions with cute young brunettes who could be a dead ringer for his wife, and there are hints he did more than just chat with them about his favorite baseball team, the San Francisco Giants.
Just a few weeks ago, one young lady asked him why he was inactive on Twitter and he replied, "got rid of it a while ago...IG is trouble…" referring to the social media mobile app Instagram.
Sam and Stephanie tried to save their relationship with marriage counseling in recent months, according to People.com, but it didn't work.
Sam has since moved out of the West Hollywood home he shared with Stephanie, Radarhas learned, and has moved in with his parents in Rohnert Park, in Northern California.
When asked about the cheating claims Sam's mother Joyce Poueu told Radar, "He doesn't want to say anything to anybody about this."
Article continues below advertisement
She continued, "But he's doing fine. He's doing great actually."
The couple wed in April of last year after Stephanie nursed Sam through life-threatening injuries he sustained in a horrific fall.
They are expecting the arrival of their first child in July and Sam told People, "Our focus is on Stephanie's continued health through her pregnancy and the delivery of our son.
"We are excited to be blessed as his parents and are focusing all of our energy and attention on doing what is best for his future. He is the most important person right now to both of us."
Stephanie had no comment when reached by Radar.