American Idol Shake Up? Producers Eye 'Dream Team' Of New Judges: Justin Bieber, Selena Gomez, Pink & Sean "Diddy" Combs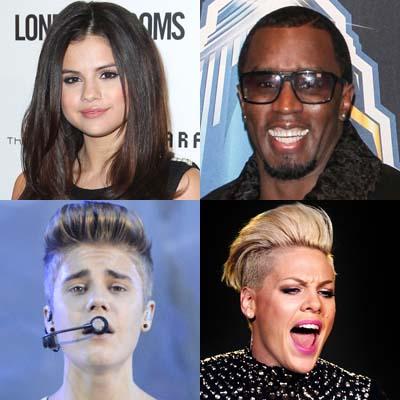 Article continues below advertisement
And the rest of AI's current judges – Mariah Carey, Nicki Minaj and Keith Urban - will possibly not be returning for season 13.
According to the Fox insider, the only one who's safe is popular host Ryan Seacrest.
"It's been a lackluster season for Idol and everyone involved with the show is well aware of it so that's why producers are franticly working on lining up big name stars for season 14," the source told Radar. "There's more drama going on behind the scenes of the show than on the stage, and that's why there's a major overhaul in the works.
"A telling sign was that the highlight of the season was Mariah and Nicki's explosive feud that was leaked on the web – and that was before the season even aired. Producers have been trying to recreate that buzz ever since and it hasn't worked – the public isn't buying it. The judges don't have real chemistry, and there's no real standout contestant.
"That's why they want to go big next season, and you can't get any bigger than Justin Bieber. The executives are calling it their dream team because who wouldn't tune in to see Justin and Selena, Pink and Diddy? Pink has been approached in the past and turned it down as well as Diddy, who wanted too much money. It will cost a fortune to get them, but the show has gotten so stale that Fox is desperate for a revamp – they're willing to pay to put Idol back on top."
Article continues below advertisement
Both NBC's The Voice and Dancing With the Stars on ABC had larger audiences than American Idol recently, according to the Nielsen Co.
The lackluster season got another hit with the bombshell report that Fox was secretly courting former judge Jennifer Lopez to come back and replace Mariah Carey.
According to the source, Fox is willing to pull out all the stops – and increase salary budgets -- to get Idol back in the number one position.
"Idol is not the water cooler show it used to be – it's not hip and become really boring," adds the insider. "If producers have it their way – Justin, Selena, Pink and Diddy will be sitting at the judges table next season and that's a powerhouse group and everyone would tune in to see."
Be sure to follow us on Facebook and tweet us @Radar_Online.
radar_embed service=5min.com src="http://pshared.5min.com/Scripts/PlayerSeed.js?sid=1126&width=570&height=351&playList=517775402&sequential=1&shuffle=0"