House Of Horrors Survivor Amanda Berry Phones Her Dad & Grandmother – Hear The Emotional Call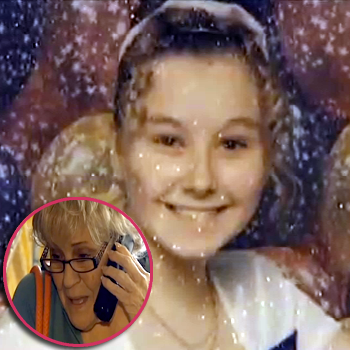 We're learning new details Wednesday about the emotionally-charged first phone calls Amanda Berry made to her dad and other family members in wake of her stunning escape from a house of horrors in Cleveland, Ohio.
Amanda – abducted at the age of ten in 2003 and held prisoner for a decade -- called her family in Elizabethton, TN on Monday night – only a few hours after her dramatic rescue. She first spoke to her father.
Article continues below advertisement
"She said, 'Hi daddy, I'm alive,'" Johnny Berry told WJHL-TV,the CBS affiliate in Johnson City, TN., of the call he received around 11 p.m. "She said, 'I love you, I love you, I love you,' and then we both started crying. You wouldn't believe it. There are no words for it. I told her I never lost hope."
Although Berry, now 27, was born and raised in Cleveland, her father, grandparents and cousins all live in Tennessee. At one time, most of the family lived in Ohio too, but they moved back south more than a decade ago.
The family says that over the years, Amanda often visited Elizabethton during the summers, and her family also visited her in Cleveland. The last time they saw her was in Ohio just three weeks before she mysteriously disappeared in 2003 -- on the night before her 17th birthday.
"It's awesome," Amanda's cousin Crystal Milton exclaimed before she was able to talk with Amanda on the phone, reported WJHL-TV. "Me and her are so close because we're only two years apart. We always spent our summers together. I went there. She came down here. I love it. I never thought we'd see this day, but I'm glad we did."
Article continues below advertisement
A few minutes after Crystal made her comments, Amanda's sister called from Cleveland and handed the phone over to her -- and WJHL-TV was there to record the moving exchange between Amanda and her grandmother Fern Gentry.
WJHL-TV: News: Weather, and Sports for Johnson City, TN
"Hello," the soft voice on the other end of the line said. "Amanda?" her grandmother asked. "Yeah grandma," Amanda answered. "How are you?" Gentry asked. "I'm fine, how are you?"
Watch the video on RadarOnline.com
During the phone call, Gentry learned her granddaughter now has a 6-year-old daughter, Jocelyn, who was born on Christmas.
"I have no clue what they've been through," Gentry told the station. "I'm sure it was awful. That was so good to hear her voice. She sounds great. She sounds good. Thank God."
Her grandfather – who admitted it was difficult to keep the faith over the years – also expressed his thanks.
Article continues below advertisement
SHOCKING PHOTOS: Elizabeth Smart Evidence In Kidnapping Case
"It's just so long, I didn't think there was no hope," Troy Berry said. "It's a relief, but I never thought it'd happen, but miracles do happen."
Now, family members are making arrangements to travel to Cleveland to reunite with their beloved Amanda.
"I'm ready to go right now to see her," Milton said. "It's awesome. I love it."
As we previously reported, Amanda was one of three women rescued from the home Monday night. The other two are Michelle Knight, who had been missing 11 years (since Aug. 23, 2002), and Gina DeJesus, who had been missing for nine years (since April 2, 2004).
The three men police took into custody Tuesday in connection with the kidnappings are homeowner Ariel Castro, 52; and his brothers Pedro Castro, 54; and Onil Castro, 50.
No charges have been filed against the men as of early Wednesday, officials said, noting that the usual 36-hour deadline to charge a suspect was extended to 48 by Administrative Judge Ronald B. Adrine.