Fired Rutgers Coach Who Cursed, Hit Player Has New Job Coaching 11-Year-Old Girls!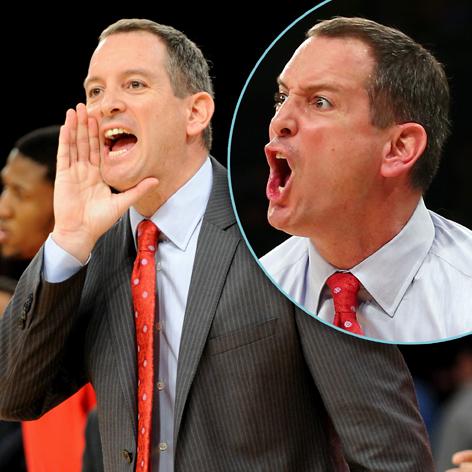 The former Rutgers coach who was fired for bullying players by screaming obscenities and homophobic slurs at them — even hitting, kicking and pushing players — is now coaching a girls basketball team of 11 and 12-year-olds, RadarOnline.com is reporting.
Mike Rice is coaching his daughter's 7th grade Amateur Athletic Union travel team, the New Jersey Shoreshots.
"Mike is doing this because this is what he does," Traci Moore, a mother of one of the girls on the team told the New York Post.
Article continues below advertisement
"This is what he loves."
A former Temple basketball player, Mike Vreeswyk, who was at the tournament, tweeted yesterday that Rice was out of control.
"His antics and screaming while seated was startling given his situation," Mike Vreeswyk, a former Temple basketball player who was present during a Shoreshots basketball game over the weekend tweeted. "He was a lunatic yesterday at Stone Bridge Middle School as well."
And Brian Geltzeiler of tweeted on Sunday, "One of my moles is watching Mike Rice coach 12 year old girls at Holmdel High in NJ right now as crazy as ever yelling @ both refs and kids.
"Some of Rice's players parents are saying that his antics are being mischaracterized. Witnesses I talk to tell me that he's as nuts as ever… As a parent of an almost 12 year old, I wouldn't want him coaching my daughter."
Article continues below advertisement
But a coach at the tournament told the NY Post, "As far as him acting improper in any way, that's not true."
As RadarOnline.com previously reported, Rice was fired as Head Coach of the Rutgers mens basketball team earlier this month after ESPN broadcast footage of his deplorable conduct during practices.
On the footage, Rice was seen shoving, kicking and throwing basketballs at his players, all the while cat-calling them with vulgar and homophobic slurs such as "f****ts," "m*th*rf**kers," "p*****s," "sissy b*tch*s," and "c***s."
Rice was suspended for three games and fined $50,000 by the university last December for his conduct.