Olivia Newton-John's Family Gathers To Say Goodbye To Grease Star's Cancer Stricken Sister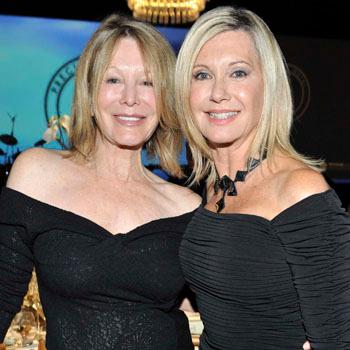 The heartbreaking news that Olivia Newton-John's older older sister Rona Newton-John was diagnosed with incurable brain cancer has brought the family together in what's expected to be her final days, RadarOnline.com has learned exclusively.
"Olivia is beside herself and obviously the family is heartbroken, but they've all come together and are surrounding Rona with calmness, peace and love," a source close to the family told Radar. "Olivia is very spiritual so the priority is to comfort Rona and just be there for her in these final days. They knew that the cancer had taken its toll, and there was nothing more that could be done.
Article continues below advertisement
Rona was instrumental in supporting Olivia when she went through her breast cancer battle over 20 years ago, and now Olivia is there for her big sister. It's all very sad, but one thing is certain -- Rona feels the love."
The 64-year-old Grease star -- who beat breast cancer in 1992 -- was forced to postpone her upcoming Las Vegas show to be with her beloved sister.
Rona – believed to be in her late 60s or early 70s -- was married to Olivia's Grease star Jeff Conway from 1980 to 1985. The former model and actress – who's perhaps best known for her roles on the British comedy series The Benny Hill Show -- has a daughter, actress-singer Tottie Goldsmith, 40, from her marriage to ex-husband Brian Goldsmith.
"As a cancer 'thriver' myself, as many people are, I am very aware of the importance of love, support and family during this journey she is about to begin," Olivia told Entertainment Tonight. "I want to thank everyone in advance for respecting our privacy during this difficult time."
Guns, Lies & Missing Money – The Official Report Into Olivia Newton John's Missing Ex-Lover
According to sources, Olivia is dedicated to healing and moving on from this life in a gentle, peaceful setting.
"Olivia is there to make sure Rona is as comfortable as possible," adds the source. "There's sadness of course, but love and harmony is what Olivia has surrounded Rona with."