Kim Kardashian Accused Of Putting On Weight -- For Profit -- To Get Diet Deal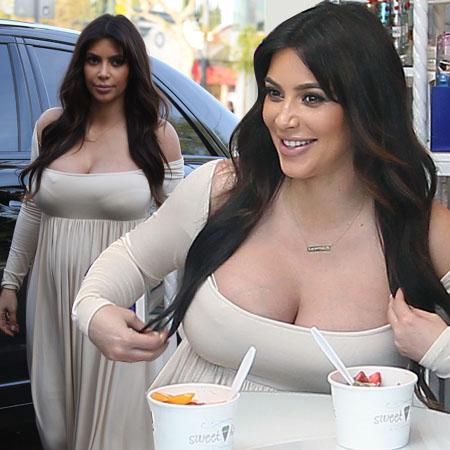 Kim Kardashian will do anything for money – even eat her way to a fat paycheck!
The pregnant reality star, 32, has been piling on the pre-baby pounds -- to add to her already curvaceous figure -- and a new report published in In Touch Weekly claims that Kim is deliberately gaining excess weight to then lose it for a profitable diet deal.
Kardashian has made no attempt to hide her sweet tooth and has been spotted digging into creamy frozen yoghurt and countless desserts, prompting speculation that she is motivated by cold hard cash, not chilly treats.
Article continues below advertisement
"I wouldn't put it past her to blow up just so her weight loss is more dramatic," revealed an insider close to the star.
"The way diet company deals are structured, bonuses are often built in for losing more weight in a shorter period of time."
Just like Jessica Simpson, who first flaunted her pregnancy pounds while carrying Maxwell and now again with her second child, Kim hasn't gone to any effort to hide her hearty weight gain.
"She knows what she's doing by showing off her heavier figure and stuffing her face in public," revealed another insider.
"The more she looks heavy and out of control with her eating, the more she will be worth. Everything Kim does is on purpose."
It is not only the 32-year-old mom-to-be who will profit from her ballooning body, mother and manager will get a slice too!
"She would get a percentage of any deal, so she's pushing Kim hard to start signing contracts – baby shower photos, baby-bump pics, weight loss," said a friend.
While Weight Watchers and Jenny Craig both deny being in talks with the Keeping Up With The Kardashians stars, Dunkan Diet spokesperson Dianna Antiocer told In Touch that they would love to have Kim represent them. "We would definitely work with her."