Exclusive
Jersey Shore's JWOWW Lands Role On One Life To Live: 'I Want To Get Into Acting… I Grew Up Watching Soap Operas!'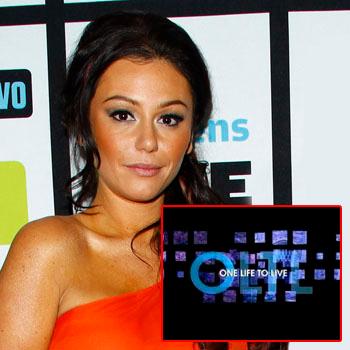 Jersey Shore's Jenni "JWOWW" Farley is making the transition from reality TV to scripted television, landing a role on the soap opera One Life to Live, and RadarOnline.com has an exclusive interview with the newly engaged MTV star.
"My manager suggested I should give it a try since I want to get into acting," JWOWW said of her guest role on the show.
"I grew up watching most of them with my grandmother. It became our thing... Snuggling up on the couch after school with my grandma catching up on soaps."
Article continues below advertisement
JWOWW will be one of two new young cast members — the other being High School Musical star Corbin Bleu -- and the 27-year-old tells RadarOnline.com the experience on set has been great so far.
"The experience has been amazing!" JWOWW said.
"I was scared for no reason! Everyone has been great and welcoming. The only moment I had that embarrassed me so far is when I went to fake smack Josh Kelly but I accidentally did... Sounded like it hurt!"
But just because JWOWW's stepped into the realm of scripted TV doesn't mean she'll forget about her BFF Snooki, who she says is "a natural" when it comes to motherhood.
"She is such an amazing mother and I'm so proud of her," JWOWW said.
Even though JWOWW is engaged to her fiancé Roger Mathews she says the two are in no rush to walk down the aisle. And children?
"Not at the moment but you never know!" she told RadarOnline.com.
Article continues below advertisement
Having had experience on a popular MTV reality show full of drama, JWOWW thinks shows like Teen Mom, 16 and Pregnant and Buckwild shouldn't get back reputations because it's just entertainment.
"Teen Mom and 16 and Pregnant show the struggles of young pregnancy and actually helped lower the overall average of teen pregnancies and created awareness of what it takes to be a young parent going to school and raising a child," she said.
"Buckwild is like Jersey Shore. MTV shows people being themselves and in turn people find it entertaining. These shows are not made to be anything more than entertaining and fun. People need to relax with the negativity."