Garth Brooks Sued For $425k, Slammed As 'Paranoid, Angry, Deceitful And Vindictive!'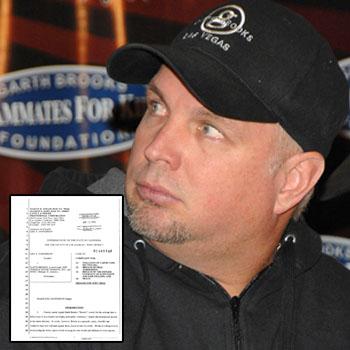 Garth Brooks might want to write a sad song about the lawsuit his former business partner filed against him.
The country singer has been slapped with a lawsuit  claiming he "would like his adoring fans to believe that he is a humble and highly principled "everyman," despite his phenomenal success in the music industry," in the documents obtained by RadarOnline.com.
The bombshell court papers filed by Hollywood heavy-weight attorney Marty Singer on behalf of Lisa Sanderson allege that what you see is not what you get with the Friends in Low Places singer.
Article continues below advertisement
"In reality, however, Brooks is paranoid, angry, deceitful and vindictive man that will turn against those closest to him on a dime."
Sanderson worked for Brooks for 20 years and says that he owes her $425,000 in unpaid bonus and salary, as well as punitive damages.
She claims he "lured" her away from a "successful and highly fulfilling career in television."
Brooks allegedly offered her producer's fees and bonuses from Hollywood deals that he was working on through his production company Red Strokes, but he's refused to pay her.
The descriptive lawsuit slams Brooks, claiming: "After realizing that he would never conquer Hollywood, Brooks decided to shut down Red Strokes, pack up his toys and go home."
EXCLUSIVE AUDIO: Hear The 911 Call! Cops Rush To Help Garth Brooks' Half-Sister
Red Strokes released a statement about the lawsuit, saying "Mr. Brooks, of course, denies everything in the lawsuit filed today by Lisa Sanderson. Mr. Brooks and Red Stokes Entertainment Inc. will continue to take the necessary steps toward resolving this matter through the legal system."