Terror At The Boston Marathon: 7 New Developments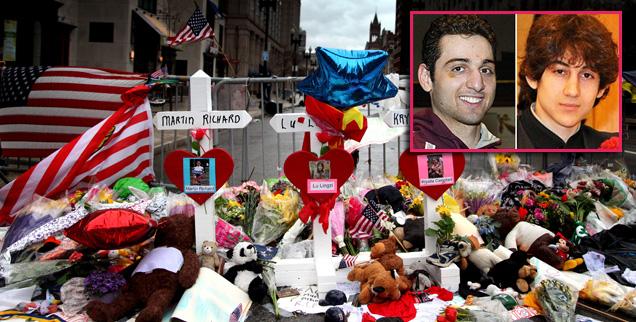 The FBI says it's still tracking "persons of interests" in the Boston Marathon bombings, as we learn the surviving younger bomber, Dzhokhar Tsarnaev, is no longer cooperating with authorities, and his family is coming under new suspicion. RadarOnline.com has seven new developments in the horrific attacks that took place two weeks ago Monday.
1.Younger Brother No Longer Cooperating With Authorities
The FBI says it is still tracking "persons of interest" both in the U.S. and in Russia in connection with the Boston Marathon bombings. Meanwhile, the surviving bomber, Dzhokhar Tsarnaev, 19, is no longer cooperating with authorities after law enforcement officials read him his Miranda rights. U.S. Attorney General Eric Holder is feeling heat for stopping the FBI interrogation so that a federal magistrate could read Dzhokhar his rights. This weekend, Holder defended his decision, saying that "everything was done appropriately" in the questioning of the suspect. "Well I mean, the decision to Mirandize him is one that…was totally consistent with the laws that we have," Holder said. "We had a two-day period…to question him under the public safety exception, so I think everything was done appropriately."
Article continues below advertisement
Holder is being criticized by several Republican lawmakers who charge the suspect received his Miranda warnings too quickly, possibly jeopardizing the investigation. The public safety exception allows for a delay in the administering of those warnings for suspects who could pose an ongoing threat to the public, something that was invoked for a time with Dzhokhar. As for the suspect, he remains in custody at a federal prison at Ft. Devens, which is located about 40 miles west of Boston, where he has a bed, sink and toilet in a 10x10 foot cell with slots so guards can slip in food.
2. Brothers Never Tested Their Bomb Prior To Attacks
Before he stopped cooperating, Dzhokhar told the FBI the brothers never even tested the pressure cooker bombs, prior to the attack. Many law enforcement officials and members of Congress believe the brothers, and in particular the older brother Tamerlan, 26, had to have been well-trained in bomb making, perhaps during his six-month trip to Russia last year and that he may have had helpers here in the U.S. Officials say while the older brother was in Russia, he perhaps became radicalized and pro-violent. The older brother was in Russia when a pro-Chechan terror group lost two key leaders around his age, including a Canadian citizen, who like Tamerlan, was a professional boxer, before becoming part of a violent jihadist movement. A few days after the Canadian was killed by Russian forces in July 2012, Tamerlan returned to Boston.
Article continues below advertisement
3. Authorities Search For Dead Bomber's Laptop
Authorities spent several days searching for Tamerlan's laptop in a New Bedford landfill near the University of Massachusetts Dartmouth campus, where his younger brother Dzhokhar attended college, sources told ABC News. It was not clear if investigators found the laptop, sources told ABC News. However, authorities did find a cell phone believed to belong to Tamerlan in a nearby apartment.
4. What – If Anything – Did The Mother Know?
The F.B.I. continues to investigate the brothers' mother, Zubeidat Tsarnaeva, to determine if she had any knowledge of the attacks, although she denies she or her family have any ties to terrorism. But over the weekend, ABC News learned that the mother's phone calls were secretly recorded by Russian authorities in 2011 as she allegedly discussed jihad with her elder son, Tamerlan. The FBI only became aware of this information AFTER the Boston bombings.
Article continues below advertisement
Meanwhile, the chair of the House Homeland Security Committee, Michael McCaul, said Sunday that he believed the suspects' mother played a "very strong role" in their apparent radicalization.
5. Father Postpones Trip To U.S.
The father of the two Boston bombing suspects has canceled plans to visit the U.S. Anzor Tsarnaev cited poor health as the reason why he had to abandon plans to fly from Russia to the US to bury his son Tamerlan and support his surviving son. Anzor told the Reuters news agency: "I am not going back to the United States. For now I am here. I am ill." Speaking from an undisclosed location in the North Caucuses, Anzor added: "Unfortunately I can't help my child in any way. I am in touch with Dzhokhar's and my own lawyers. They told me they would let me know what to do." He added that both he and Zubeidat had relocated from their homes in Dagestan to an undisclosed village in an effort to keep a low profile amid scrutiny into the family.
6. "Misha" Denies Radicalizing Older Brother
Overnight, the mysterious man identified as "Misha" emerged from his home in Rhode Island and denied he was the one who radicalized the older brother and urged him to carry out terror attacks in the U.S.
Misha -- an Armenian with a red beard whose identity and full name remain a mystery -- shares an apartment with his elderly parents and claims he hasn't had contact with the brothers for three years. CNN reports the FBI has interviewed Misha, but at this time, no other details are being made public.
7. Dance Instructor Who Lost Left Foot In Bombing To Appear On DWTS
The dance instructor who lost her left foot in the bombings will appear on an upcoming episode of Dancing With The Stars. Adrianne Haslet-Davis, a professional ballroom instructor, will be featured on Week 7 of ABC's hit dance competition. DWTS host Tom Bergeron revealed the news during Week 6. "We were all very moved by her inspirational outlook," Bergeron said of Haslet-Davis. "We'll tell you how we hope to be part of her recovery." "Dancing is my life," Haslet-Davis told the Boston Herald. "Yeah, having my foot blown off, that really sucks. But I can't wallow in woe is me." DWTS' Derek Hough told the Herald that he would love to team up with Haslet-Davis, a professional dance instructor. "It's hard for anyone to really quite understand what she must be going through and what she's going to go through with rehab and getting her balance back," Hough said. "But if she has the determination and she has the passion - and it sounds like she does - she's going to run that marathon and she's going to be dancing again. It's not going to slow her down."