Anchor Has First Professional Gig Since the Profanity Heard 'Round The World — Thanks To Kelly & Michael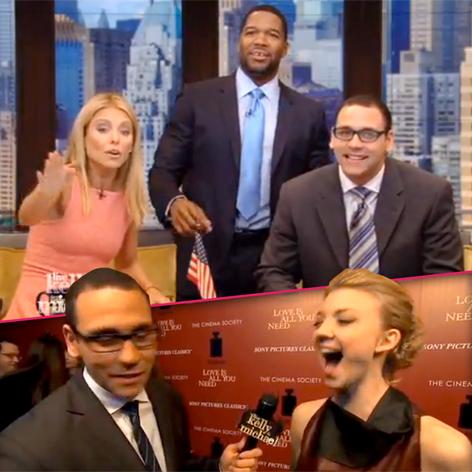 Bumbling broadcaster A.J. Clemente had his first on-camera gig since getting canned for cursing on a North Dakota newscast.
The green broadcaster -- milking every last drop of his 15 minutes of fame -- took to the red carpet for Live With Kelly & Michael to cover Pierce Brosnan's new movie Love Is All You Need. And apparently, things went better than they did back in the Roughrider State.
"It went amazing: New York City, bright lights, red carpet," Clemente said, adding that his subsequent appearance on the Late Show with David Letterman was "so much fun."
Article continues below advertisement
In his intro to the red carpet piece, Clemente said, "My broadcasting debut went viral for all the wrong reasons, but Live gave me a second chance to redeem myself on the red carpet."
So was redemption his for the taking? Take a guess.
In one instance, he asked an attendee how she liked being in the film.
"I'm not in the movie," the woman said.
"Tell me why you're here?" Clemente asked.
"I'm the director," the woman, Susanne Bier, replied.
Despite the gaffe, Live's hosts – Kelly Ripa and Michael Strahan -- lauded Clemente for his work at the event. (It's likely the last time we'll see him broadcasting on network TV for a long, long time.)
"That was great, man!" Strahan told him, while Ripa said, "You've been terrific."
youtube