Kim & Kourtney Kardashian Strip Down To Get Spray Tans Together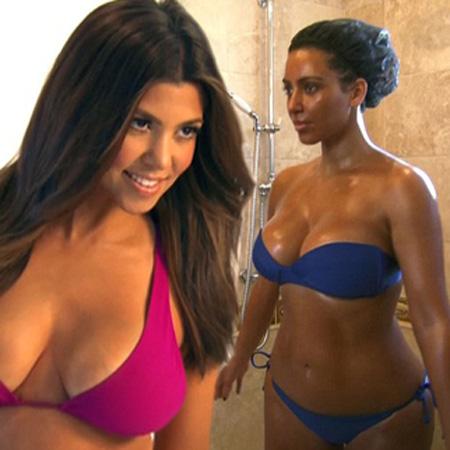 Kim Kardashian and her sister Kourtney stripped down to get spray tans together in the latest episode of Kourtney and Kim Take Miami on Sunday night.
It was Kim's idea to get matching (organic!) spray tans after mother-of-two Kourtney, feeling insecure about her body, expressed concerns about an upcoming photo. Kim suggested the tans as a way to appear more slimming.
For the session, Kim went first -- donning a teenie weenie blue bikini, which showed off her famous curves, while Kourtney took a little longer to slip into her orange-colored bikini.
Article continues below advertisement
Kourtney, the mother of Mason, 3, and 7-month-old Penelope said: "My belly is flabby and my boobs are so veiny because there is milk in there…"
"After your second baby it is definitely harder to lose the weight. It's frustrating, it's been six months since I gave birth and my weight is just staying the same."
Also during the episode, Kim expressed her own insecurities that her fashion sense may be ruining baby daddy Kanye West's reputation as a style icon.