Best, Worst And Wackiest Dressed Stars Of The Week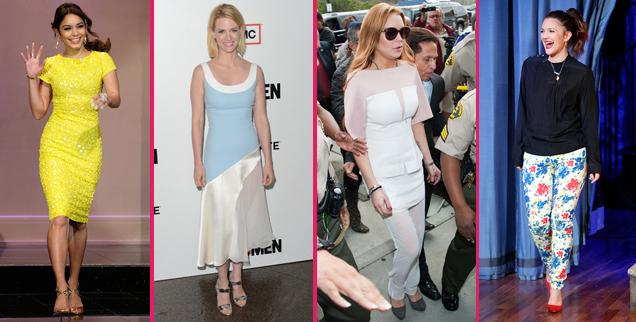 It wouldn't be Hollywood if there weren't a few fashion faux pas on any given night, and this week had its fair share of bizarre pairings, silly styles and outright odd looks!
From the period appropriate style of the Mad Men red carpet and the dashing drama of the Game Of Thrones premiere, to yet more courtroom showdowns for one notorious star and mismatched maternity wear from another, RadarOnline.com has all the wardrobe winners and style sinners in our weekly feature.
Article continues below advertisement
New mom January Jones looked as flawless as ever in a blue-and-white Jonathan Saunders dress with a revealing sheer panel that even Betty Draper would approve of to celebrate the sixth season of Mad Men at the DGA Theater in Los Angeles on March 20.
Across the country in New York City, Jennifer Hudson was slim and sleek in a white figuring-hugging dress at the Amy Winehouse Foundation Inspiration Awards and Gala, which kissed her curves in all the right places.
Lindsay Lohan exhausted her go-to legal style many court hearings ago, and the fashion judges should have thrown the book at her for the white paneled pant suit she wore for a trip to the Airport Branch Courthouse of Los Angeles Superior Court on March 18.
While we hate to criticize pregnant women, Kim Kardashian should probably store her skin-tight leather outfits safely in her closet until after she has given birth to her and Kanye's baby.
Proving that British do everything with elegance, pregnant Kate Middleton was much more prim and proper in a teal Marlene Birger coat that perfectly covered her royal baby bump to celebrate the London Underground's 150th Birthday on March 20.
For the rest of the best, worst & wackiest dressed stars of the week, click here.