New York TV Anchor Rob Morrison Accused Of Choking His Wife Ashley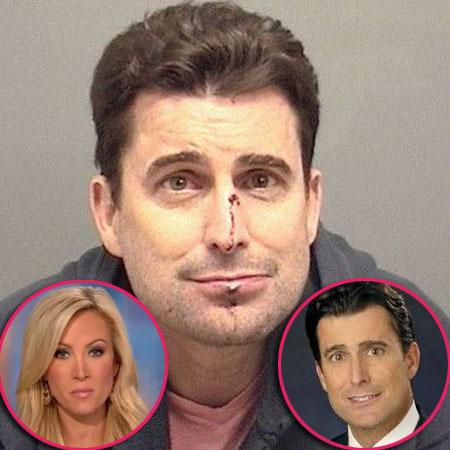 Veteran New York television anchor Rob Morrison is finding himself in the news Tuesday – for all the wrong reasons.
Morrison -- a handsome ex-Marine turned morning anchor at WCBS-TV -- choked his stunning wife, herself an anchor for CBS MoneyWatch, during a heated fight at their million dollar home in Darien, Connecticut early Sunday and then threatened her again while he was in police custody, cops said.
Article continues below advertisement
Police say Morrison's mother-in-law, Martha Risk, called 911 to report a domestic incident around 1:30 a.m. Authorities said they found his wife, Ashley Morrison, 40, with red marks on her neck, although she did not want medical attention. They also say Rob Morrison, 44, was bleeding from his face – as evident from his mug shot.
Authorities say Morrison was still ticked off as he was getting booked on several counts - the most serious being charges of second-degree strangulation, a felony.
While being processed, police said Morrison "made verbal threats to do his wife additional harm, which were overheard by arresting officers."
A day after the incident, the high-profile couple issued a joint statement trying to downplay the potentially career-killing incident.
"The Morrisons are confident that a full review of this matter will show that the allegations have been greatly exaggerated," the statement said.
Article continues below advertisement
"While this matter is being addressed, Rob and Ashley hope that their family's privacy will be respected."
When the New York Daily News reached out to Rob Monday night, he emailed back, "We, my son, wife and myself are fine, thank you."
This is allegedly not the first time authorities have been called to the couple's upscale home.
The New York Post cites sources as saying that several weeks before Sunday's incident, Darien police responded to a domestic incident at their home, but it did not end in any charges.
Morrison was also arrested in 2009 for allegedly assaulting Ashley at their Upper West Side apartment, the Post also reported. The paper says New York police said that between 2003 and 2009, police were called there for seven verbal disputes — none of which led to an arrest.
Morrison—who anchors This Morning and News at Noon for CBS' New York affiliate on Channel 2 – was released on $100,000 for this latest incident. He's expected to face a judge in Stamford, CT. on Tuesday.
His station bosses are not publicly commenting on Morrison's arrest.