Is Kanye West Jealous Of Justin Timberlake & Jay-Z Bromance?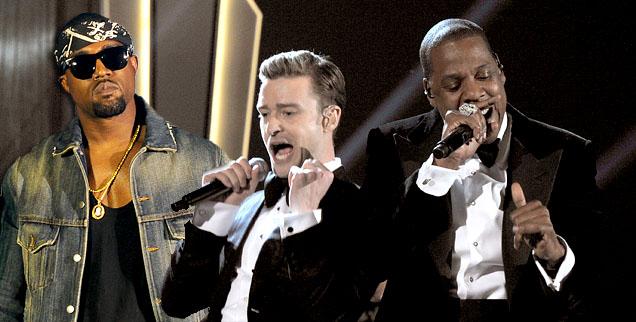 Poor Kanye West. He used to be best buds with Jay-Z. Last year the two released a very successful album, Watch the Throne, and toured together.
Now Kanye is touring with his baby mama-to-be Kim Kardashian and Jay-Z has moved on to Justin Timberlake. The two guys even performed Suit & Tie together at the Grammy Awards and have planned an upcoming tour called Legends of the Summer.
On Saturday, during a concert in London, West fired off a few digs at the new besties.
Article continues below advertisement
"I got love for Hov, but I ain't f--kin' with that 'Suit & Tie'," he rapped about the Timberlake-Jay collaboration.
And as for those Grammys? "The Grammys can suck my d--k," West said rather bluntly.
Come on now, can't we all just get along?