Scary Skinny Denise Richards Out With Her Daughters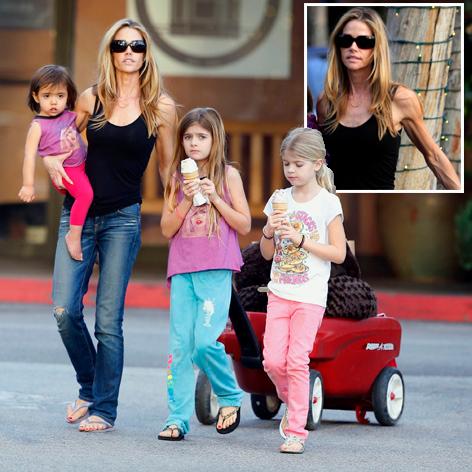 She may have been taking her kids for ice cream but Denise Richards didn't look as though she had indulged in any herself as she stepped out in Los Angeles, CA looking pin thin.
The actress appeared to have lost all of her famous curves as she took her three children for a sweet treat on Friday morning.
Richard's strappy black vest did nothing to hide her jutting collarbones and veiny arms as she carried her adopted daughter, Eloise in one arm and pulled a cart of shopping with the other.
Article continues below advertisement
Her two other daughters Lola, seven, and Sam, eight, were also in tow, happily eating the ice cream their famous mother had bought for them.
The 41-year-old - who was once married to Charlie Sheen - puts her slim figure down to plenty of Pilates insisting her "body has responded to it more than any other workout."
But being a single mom also keeps her on her toes.
The family recently suffered heartbreak when their beloved 13-year-old French bulldog, Hank, died.
"Last night we lost our beloved Hank," she wrote on her Twitter page on January 26. "I will miss him dearly…been there for me through it all."