Gold Medal Volleyball Player Kerri Walsh Jennings: I Was Pregnant At The Olympics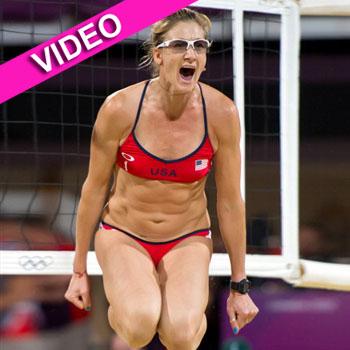 By Debbie Emery - RadarOnline.com Reporter
Kerri Walsh Jennings' third Olympic gold medal was made even more impressive after she revealed on Monday that she was actually five weeks pregnant when she hit the sand in London.
"When I was throwing my body around fearlessly and going for gold for our country, I was pregnant, and today I'm 11 weeks pregnant," Walsh Jennings told Matt Lauer on TODAY, when she excitedly made the big announcement with husband, Casey Jennings.
Article continues below advertisement
The Olympic baby is due on April 9 and will join the couple's sons, Joey, 3, and Sundance, 2.
The happy couple revealed that they began trying for their third child just before the games kicked off in London in July but didn't expect it to happen so quickly, despite a few warning signs that they may have hit the jackpot. "Apparently we're very fertile," she giggled embarrassedly.
Kerri's other longtime partner, Misty May-Treanor, guessed that she may be pregnant, especially when the normally happy-go-lucky player got "unreasonably moody," admitted the mom-to-be.
"I thought it could have been the stress of the games and travel kind of throws your schedule off, but I knew," Walsh Jennings told Lauer. "At some point, you're late and then you start feeling something. And I definitely started feeling something in London."
Having suffered a miscarriage during her first trimester in the past, Walsh Jennings said she understands the risks of making a big reveal so early in her pregnancy, but didn't want to keep it a secret. "I just can't keep my mouth shut," she gushed. "It's so exciting. It feels so great to tell people."
Article continues below advertisement
While she is a tough-as-nails competitor, Kerri admitted that her third pregnancy is her toughest challenge yet. "This little one is kicking my butt! The first two were pretty easy, but with this one, I'm sick every day, I've got some awesome acne, I just feel different."
It certainly didn't seem to throw her game off, however, and the phenomenal duo powered to the gold medal podium yet again when they beat out fellow Americans Jen Kessy and April Ross 21–16, 21–16 on August 8.
May-Treanor retired from the Olympics after London, but Walsh Jennings is still keen to compete in Rio in 2016, where she'll have to start thinking of yet another baby if she gets a fourth medal.
Visit NBCNews.com for breaking news, world news, and news about the economy
RELATED STORIES:
Shakira Confirms She's Pregnant!
Jennifer Aniston Pregnant With Triplets! She Mocks Her Life In Spoof Video