Jillian Michaels Reveals That She Has Sacrificed Fitness For Motherhood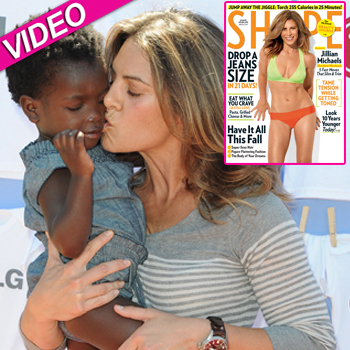 She may be one of the most famous personal trainers in the world, but Jillian Michaels isn't breaking a sweat quite as often as she used to now that she is a mom!
The Biggest Loser trainer, who recently adopted a baby girl, Lukensia, and welcomed a son, Phoenix, with her partner Heidi Rhoades, is featured on the September 2012 issue of Shape magazine, where she opens up and reveals how her life – and fitness regiment – has changed since becoming a mom.
Article continues below advertisement
"I used to tell moms that for the sake of their well-being they had to put themselves first," she admits about the difficulty of finding time to work out. "But I know now that's not always possible."
Michaels also admits that she was pretty idealistic about not having to make sacrifices in her career and personal life with motherhood.
"The reality is, I work, but not nearly as much or as hard as I used to and if we go out, it's maybe once a week," she says, explaining that she has shaved her workouts down to 30 minutes from 90, has mastered the art of multi-tasking and has learned to burn calories through cleaning and spending more time on her feet and less time sitting down.
"My life is rich in ways I never thought possible," gushes the new mom. "I feel like I can finally hone in on what truly matters to me."
Read all about Jillian Michaels' motherhood diet and workout regiment in the September 2012 issue of Shape, on newsstands now, and get a sneak peek of the entire issue, courtesy of Shape editor-in-chief Tara Kraft, by watching the video below.
MORE ON:
hollywood happenings