Kim Kardashian's Web Of Lies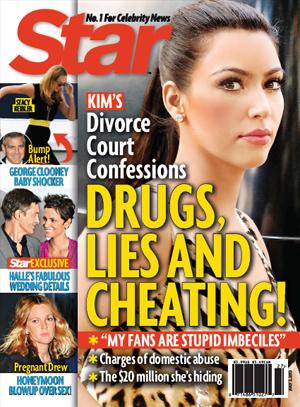 Kim Kardashian's day of reckoning has arrived. Ever since the reality star filed for divorce from husband Kris Humphries last October — just 72 days after exchanging wedding vows — suspicions have run rampant that the only thing "real" about her was a desire to pump her ratings at any cost, including faking a marriage.
As both Kim, 31, and Kris, 27, face depositions any day now for their impending divorce trial, Star can finally expose the many secrets Kris plans to reveal — including Kim's physical abuse, drug use, hidden finances, plastic surgery addiction, the truth behind her show and more.
Article continues below advertisement
"Kris wants to air all her dirty laundry, from her bad bedroom habits to her regular trips to the surgeon," says one insider. Another adds: "As far as he's concerned, she used him for headlines and cash."
Kim's stress levels have reportedly skyrocketed, and she's having trouble sleeping, apparently terrified about what Kris plans to reveal in court. Based on what Star has already learned, his allegations will be seriously damaging — more than enough to alienate her fans.
One of Kris' prime complaints will be Kim's temper, which was hinted at during an episode of Kourtney & Kim Take New York when Kris accidentally stepped on Kim's toe, ruining his wife's pedicure. Kim, outraged, socked the NBA player in the arm.
"What you are seeing there is domestic violence," Dr. Drew Pinsky said of the punch. An insider says, "It was much worse behind the scenes. She would pound her fists on his chest and throw sharp objects off her nightstand at him. It could have escalated into a scary situation."
Pick up Star, on newsstands now, for more details!