Exclusive: O.C. Housewives Star Briana Shares Her Wedding Details!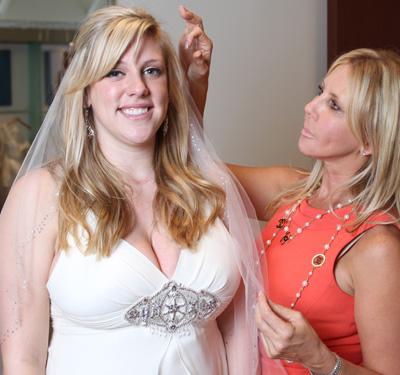 Here comes the bride! The Real Housewives of Orange County's Vicki Gunvalson is helping her daughter, Briana, plan her wedding. Star spoke exclusively with the duo at Erin Cole bridal boutique in Costa Mesa, Calif., about the details of the big day.
Q: How's the wedding planning going?
Vicki: The only issue I have is that we are over budget. We are at about $47,000, but who's counting? We spent a little bit more on the food and the venue, which we think is so important. We spent the money where it counts.
Article continues below advertisement
Q: What other details can you share with us?
Briana: It's taking place in Santa Barbara on a cliff overlooking the ocean. The ceremony will start at 4 p.m., so we will hit sunset on the cliff side, then cocktails at 5:30 p.m. and dinner at 8 p.m. We're having a live band to kick off the evening's festivities.
Q: Is it going to be a big wedding?
B: No, it's kind of small. We're only inviting about 75 to 100 people... mostly family and very close friends.
Q: Most important, have you picked the dress?
B: Yes. I thought I found the dress at another store, actually. But then I happened to go into Erin Cole. I saw the dress that is now the one I'm going to wear. I started bawling, and so did my mom!
V: I couldn't stop! She looked like a beautiful china doll.
Q: Vicki, have you given Briana any words of advice about marriage?
V: Well, unfortunately, I'm going through my second divorce. But she can learn from some of my mistakes. So the biggest thing I tell both of them is to love, respect and listen to each other. They should go to each other with their problems before getting anyone else involved.
Q: And what do you think of your future son-in-law, Ryan Culberson?
V: I think she has found the perfect guy for her! He loves her like I've never seen anyone love. I'm very proud of her choice. And obviously his choice is the best!
Q: Briana, are you nervous about saying "I do"?
B: No, I've been very relaxed about everything. I know what I want, and there's no point in getting crazy about it!