It's A Stormy End For Jersey Shore's Fifth Season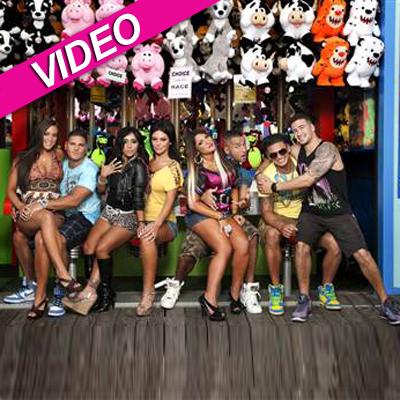 Storm fronts, sophomoric humor and Sapphic sensuality scorched Seaside Heights on Thursday's Jersey Shore finale, which was an action-packed-albeit-anti-climactic end to the show's fifth season.
With a storm pounding the shore, the sophomoric humor was on display by resident ribbers Pauly D and Vinny, who embarked on Operation Inside Out: taking all of their housemates stuff and moving all of the outside patio furniture in the house. (The Situation found it "really, really, really p*sses" him off when that happens, raising a stink about the prank.)
Article continues below advertisement
Of course, The Sitch spread around his own stench when he stirred it up by revealing some sizzling gossip about Deena's sister, Joanie (who's dating his older Frank), claiming that she has a "special sexual talent" and is "one of the chosen ones."
Deena was upset over his loose-lipped ways, but he was able to squash the beef, lying he didn't spill the beans. (And he wonders why no one likes him there.)
And there was Vinny, whose charm (and access to MTV cameras, perhaps?) helped him achieve a coveted three-way conquest with two lesbians.
Watch the video on RadarOnline.com
"This is the moment when heroes are made -- this story's going to be told for generations to come," said Vinny, who bragged his skills would have them "switch teams back."
As the storm raged, scaring Deena -- "I don't want to be like Dorothy, freaking swinging all over the freaking sky with my dog and stuff!" she said -- the crew decided to brave the storm and hit up their beloved club, Karma.
Article continues below advertisement
Finally, Snooki wrapped the season up with a cute bow, saying, "I definitely would love to be in this house fifty years from now. I mean, I can do this forever, like every summer until I'm 90-years-old ... leaving the shore house is always bittersweet, like, you're excited to go home and see your family and friends, but then again, I mean, the party's over.
"I mean, what am I gonna do with my life now?" she said in the outro, which was filmed prior to news breaking of her pregnancy and engagement.