Hollywood's Hottest Gather For 'Girl's Night'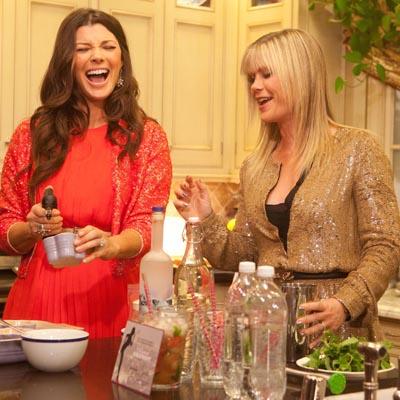 It started out as a gaggle of Hollywood moms getting together for potluck dinners hosted by actresses and friends Ali Landry and Alison Sweeney. That led to the reality series Hollywood Girls Night, where the Alis have celeb pals (Denise Richards, Niecy Nash, Cheryl Burke) come over to dish while eating homemade dishes. For the second season, Ali Landry spoke to Star about the new menu.
Q: How did you guys come up with this?
Article continues below advertisement
Alison Sweeney and I have so many friends around the same age who have children and are sort of in the same places in our careers. So we thought it'd be cool to start getting together.
Q: What's new this season?
Each week we do a different theme, like springing back into shape, where we have honest conversations about our struggles with weight and how we deal with it.
Q: Are you ever shocked by what the guests say?
We had a passion-party theme with Kendra Wilkinson, Robin Givens and Perez Hilton. Some of the things that came out were jaw-dropping!
Q: Are all of the dishes really homemade?
Well, Kyle Richards is a dear friend, and in the past I'd somehow be responsible for bringing in her dish. She was a guest a few weeks ago and said, "OK, in tradition, I bought my dish from a Beverly Hills cheese shop." So yeah, sometimes they cheat!
Hollywood Girls Night premieres Sunday, March 4, at 9PM on TV Guide Network